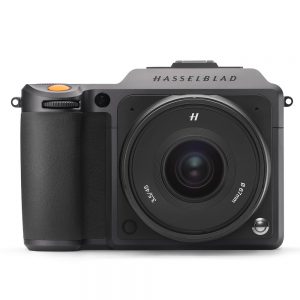 When Hasselblad's X1D-50c was announced back in 2016, it earned the crown as the world's first compact medium format mirrorless camera. Now, almost 3 years later, Hasselblad has finally announced its successor, the faster and (slightly) less expensive, Hasselblad X1D II 50C.
Hasselblad X1D II 50c
Featuring a pretty slick looking black and grey finish, physically, the X1D II 50c looks and feels much the same as its predecessor.
The touchscreen LCD screen on the back has grown from 3-inches to 3.6-inches and boasts more than double (2.36-million-dot vs. 920K-dot) the resolution of the original X1D. This bump in size makes it the largest LCD screen currently offered on a digital medium format camera.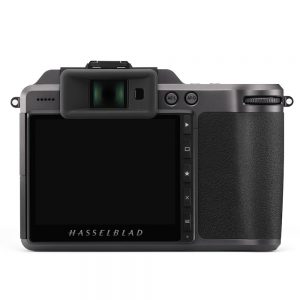 As with the X1D, the X1D II 50c allows you to use touch gestures, including pinch-to-zoom and swipe when viewing images. On the X1D Hasselblad has improved the response time when navigating through the menu system and added autofocus point drag and drop placement, and autofocus point size changes using pinch/spread finger movements.
Other improvements include a faster (60fps) refresh rate, faster start-up time, reduced shutter-lag and black out time between frames and faster (2.7fps) capture rate.
Also receiving an upgrade is the electronic viewfinder which has been increased to 3.69-million-dots and 0.87x magnification vs. 2.36-million-dots on the original. You can also access the menu system through the EVF, something you couldn't do on the original.
Inside, sits the heart of the camera, the massive, 43.8 x 32.9mm, 50-Megapixel (8272 × 6200 pixels) CMOS sensor that features a native ISO range of 100-25600 and 14-stops of dynamic range.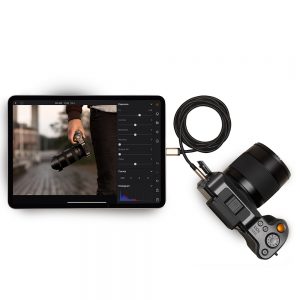 The X1D II captures 16-Bit RAW images, but unlike the original, Hasselblad has added the option to capture full-resolution JPEGs which will greatly reduce file size and help provide a faster workflow for those who want it.
The Dual SD slots now support the faster UHS-II standard cards helping to reduce the write time when shooting continuously.
The X1D II 50C features built-in Wi-Fi as well as USB-C connectivity that allows for wired or wireless tethered image export and tethered shooting via the new Phocus Mobile 2 application. If you don't want to use your mobile device, tethered shooting can also be used with the desktop (Mac or PC) version.
In-camera battery charging is also made possible via the USB-C port connected to a computer, charge or a power bank.
At a Glance X1D II 50c Improvements Over 1st Gen X1D- 50c
Performance
Start-up time reduced by 46%
Reduced shutter lag and blackout time
Higher frame rate Live View with a 62% faster refresh (60 fps vs 37 fps)
Continuous shooting rate has been increased by 35% (2.7 fps vs 2.0 fps)
Overall system response speed when browsing images and menus has been improved
Autofocus accuracy improved
GPS
The GPS module is now located internally (the first generation X1D had an external GPS unit that occupied the flash hot-shoe)
User Interface
Self-Timer/ Interval / Bracketing options are now available in the Drive Modes on Control Screen for quick access
Menu system can be accessed when using the EVF
Balance Scale indicates exposure adjustment on the Control Screen
The menu structure has been reorganized for more logical control and easier access
Improved visual language of icons and text
New touch-to-select focus point selection on the rear screen
Minor improvements throughout for a better user experience
Battery & Charging
The battery can be charged in the camera via USB from a computer, charger or power bank
New Rear Display
43% larger display area (3.6" vs 3.0")
Higher resolution: 156% more pixels (1024×768 vs 640×480)
Brighter, more vivid colour reproduction
New Electronic Viewfinder
Higher resolution: 55% more pixels (1280×960 vs 1024×768)
Higher magnification (0.87x) delivering a larger image
JPEG Output
Full resolution JPEGs (50MP) available
JPEG-only capture option available
Improved image quality for JPEG
XCD 35-75mm f/3.5-4.5 Lens Zoom Lens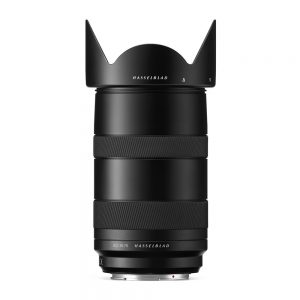 Also announced, is the ninth addition to Hasselblad's X System lens range, the XCD 35-75mm f/3.5-4.5 Zoom Lens which Hasselblad says delivers "the same superb image quality from edge-to-edge as the XCD prime lenses."
A mid-range zoom that covers moderate wide angle to short telephoto focal lengths, the XCD 35-75 features internal focusing, quick autofocus and a relatively light weight.
Like the rest of the XCD lens range, the XCD 35-75 features an integral central lens shutter which can offer exposure times from 68 minutes to 1/2000th of a second with full flash synchronisation throughout.