The just announced Olympus E-M10 Mark II is the latest contender to wade into the Micro Four Thirds entry-level mirrorless camera arena.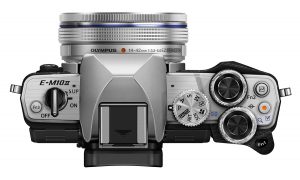 Positioned just below the popular E-M1 and E-M5 lines the successor to the original E-M10, the new E-M10 Mark II offers the same CMOS sensor, ISO range (200-25600) and 5-axis stabilization as it's higher-end siblings for a fraction of the price.
Small yet powerful
The Olympus E-M10 Mark II packs a lot into its small light all metal frame. It's so small in fact, that people with larger hands might find it uncomfortable having to contort their thumbs to reach the controls on the back, although this can be slightly improved by adding the (separately purchased) quick release camera grip. One feature missing from the E-M10 Mark II is the weatherproof sealing found on the E-M5 and E-M1 models.
Olympus has also add textured metal to the camera's knobs. In addition to that, they now shoot up about half an inch which makes them easier to reach (rather than laying flat on the top of the camera as found on the original E-M10). Clustered in a group of three on the right side of the camera (the power and flash switches have been moved over to the top left), they feature slightly different designs which makes it easier to know which knob you're controlling without having to take your eye off your subject.
The OLED electronic viewfinder offers a large, bright, 2.36 million pixel display, and the tilting 3-inch LCD touchscreen on the back now allows you to trace your thumb around on it to adjust your focus points without having to look away from the viewfinder.

The Mark II offers a fast start up fast, quick autofocus and can burst shoot RAW or JPEG images up to 8.5 times per second, even when shooting with its quiet shutter mode.
Experiment with creativity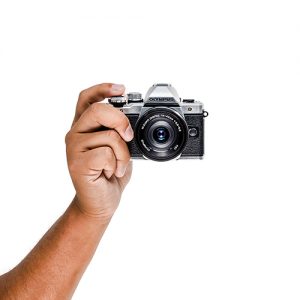 The Mark II also gives you nearly 20 different in-camera creative effects to experiment with. Including 14 Art Filters (including Grainy Film and Partial Color) and a Photo Story mode which allows you to combine multiple images using one of 5 integrated layouts. You can preview the results before you shoot (with Live View) or apply effects to a finished image.
While the E-M10 Mark II doesn't offer any 4K video recording capability, you can record in full 1080p at 30 or 24/fps. Want to alter settings or add creative effects on the fly? The touchscreen allows you to do so, even while you're recording! Another cool video tool is the innovative CLIPS feature which allows you to shoot short clips, edit them into a single portable video and then post it to social media – all in-camera.
Olympus E-M10 Mark II
If you're looking to get into the Micro Four Thirds market and want a feature rich camera, but don't have a lot of cash to spend, the Olympus E-M10 Mark II is a great option to consider. It's beautifully made, and because it's member of the OMD family, there are already 20 or so interchangeable lenses available to shoot with.
The Mark II will start shipping in September through Vistek but is available for pre-order in body only or kit with a 14-42mm lens now.