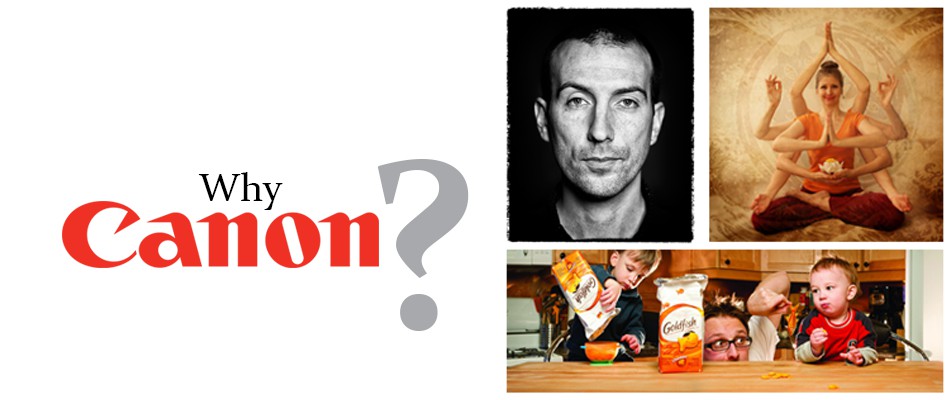 Essentially synonymous with photography at this point, Canon pretty much stands atop the mountain when it comes to selection, quality and compatibility. With their EOS/EF cameras and lenses, video products and tailored gear for every type of photographer from amateur to pro, Canon might even be called 'peerless'.
But instead of us droning on and on, we decided to ask seasoned, established pros like Justin Van Leeuwen, Katrin Ray and Frederic Dekkal – all of whose work you've seen right here on the blog – why Canon is such a fundamental part of their setup. Here are their responses.
Frederic Dekkal
First of all, what I like most about Canon is the wide range of photography products in the EOS / EF line – especially the lenses – and the full compatibility between all products (including point & shoots like the G series for instance with speedlites, or more recently the M series). The build, quality and reliability, as a pro, is very important, and that is what I get with all the L lenses available. The 70-200 L series is legendary in terms of those criteria, coupled with the broad versatility of a zoom lens (not to mention the great quality of the glass, and crisp images that result, which is critical to me). And, by proposing both f2.8 and f4 versions, it gives more technical and cost options for photographers, depending on their field of interest and type of usage. In my case, since I rarely shoot fast action, I chose the f4 IS because weight and cumbersomeness are more important factors to me than aperture. And, if I really need a fast lens for specific shoots, I can always rent the f2.8, which is widely available. The rental availability of Canon lenses and bodies was definitely a determining factor for me when I chose the EOS system, now well over a decade ago. It is always nice to have a safety net in case something goes wrong with your own gear, or to be able to get a specialty lens, such as a tilt & shift for example, without breaking the bank!
Katrin Ray
I love my trusty Rebel (Canon T1i) which has served me well for many years now and still working wonderfully! Being origami artists, my husband and I travel a lot with our exhibitions, so I really do appreciate this camera's light weight, reliability, functionality and great quality images it's capable to produce. From close-up photos of our art pieces, we even use in our origami books, to landscapes this camera can do it all on a very good level… and don't forget HD videos! Love Rebel which goes everywhere with me!
Justin Van Leeuwin
People always ask me what their first major camera purchase should be, and my response to them is this: Buy what your friends have. The support network of the people close to you is invaluable in learning about your new camera. For me, that meant my first camera was a Canon Digital Rebel. When my son was born all I brought with me to capture the birth was a 50mm f/1.4, 2 years later I used the exact same lens to capture the birth of my second son. I continued to photograph my growing family with the Canon 7D and then a 5DMKII. Now, as I've worked professionally for three years, my 5DMKIII has access to an incredible array of lenses that allow me to take professional images. From the 24mm f/3.5 L TS-E for interiors, the 24-70 f/2.8 L II for editorial assignments, and the 70-200 f/2.8 L IS II for portraits and events, to the incredible light-system offered by 600EX-RT's, Canon is now a part of my livelihood. From friendship, to family, to my job, business, and so much more, that's what Canon means to me.
And now that we've got your ear…
If there was ever a time to upgrade your Canon cameras, lenses, video cameras, flash and more – NOW WOULD BE IT. Click the link below and experience Canon's Best in Glass sale. You'll be glad you did!