If you're heading to ProFusion Expo in Toronto next week, you'll be one of the lucky few to get an exclusive preview of the yet-to-be officially announced Rotolight Anova PRO 2!
For Immediate Release
ProFusion Expo, Toronto November 7th 2017.
Rotolight, an award winning UK LED lighting manufacturer is making an advanced preview of its amazing new ANOVA PRO 2, Led Studio/location light at ProFusion Expo in Toronto.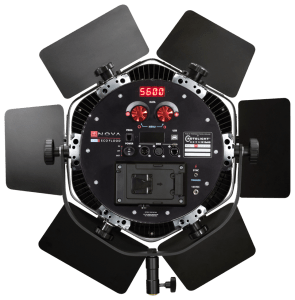 The new Anova PRO 2 redefines the standard for professional LED lighting, as one of the brightest LED lights ever launched in its class, delivering over 10,700 lux at 3 feet, whilst offering unrivalled battery performance. Packed with innovative features for Filmmakers, Anova Pro 2 includes an updated suite of Rotolight's award winning CineSFX, which are now wirelessly triggerable thanks to an integrated Elinchrom Skyport flash receiver.
70% brighter than the previous Anova PRO 1, Anova PRO 2 is also ideal for professional Photographers, providing a 250% performance boost in High Speed Sync flash mode(1/8000th), with no recycle time so you never miss a shot.
AccuColour technology enables Anova PRO 2 to deliver class leading colour rendering saving time in post production, whilst its unique circular shape provides gorgeous soft light and Rotolight's signature catch light.
At ProFusion Expo, Rotolight will also be demonstrating their NEO 2 on camera hybrid LED/flash which recently won the Digital Camera Gold and Best on test awards, as well as its updated AEOS, now including Elinchrom's wireless Skyport HSS flash receiver.
Join Sony Artisan of Imagery Jason Lanier for a live demonstration on "Mastering your portrait lighting" featuring the Anova PRO 2 in the Rotolight booth (1712) at 1:30 p.m. on November 7th and 10:00 a.m. on November 8th.
Anova Pro 2 Quick Specs
Designed for Studio/location photo & Video
Bi Colour (6300-3150K) flicker-free continuous output
AccuColour Technology for Best in Class CRI 96, TLCI 91
High speed sync flash (1/8000th), no recycle time
Built in Elinchrom Skyport wireless flash receiver (656ft)
Powerful soft output (10,900 lux at 3 ft), 70% brighter than Anova PRO 1
Unrivalled battery performance – Low 72W power draw
Cinesfx Mode ™ Delivers Custom Lighting FX on set/location
---
Register for your free ticket today and be one of the first to see the new Rotolight Anova Pro 2