ProFusion Expo recognizes that today's imaging students will be tomorrow's master image makers, and that's why this year, we've created the 1st ever ProFusion Student Experience.
[dropcap style="square"]W[/dropcap]hile you're free to attend whenever you like, we want to make sure you are able to get the most out of ProFusion 2015.
That's why we've dedicated Wednesday, November 11 from 4 pm- 8 pm to celebrate you, the imagemaker of tomorrow.
Why the ProFusion Student Experience is for you…
If you're involved in photo or video with the hope of one day making it your career, ProFusion is a must-see event. The world's leading manufacturers of cameras, lighting, audio, post production, drones, gimbal rigs will be there. On a massive 120,000 square foot showroom floor, experience the largest array of imaging and production gear in Canada – many of it shown in this country for the first time!
Photography to the amateur is recreation, to the professional it is work, and hard work too, no matter how pleasurable it may be. Edward Weston
---
The biggest names in imaging technology will be there…
Wandering the show floor, you'll have access to the world's leading manufacturers of imaging technology such as:
[columns]
[column size="1/2″]
[/column]
[column size="1/2″]
[/column]
[/columns]
See the full list of exhibitors here
---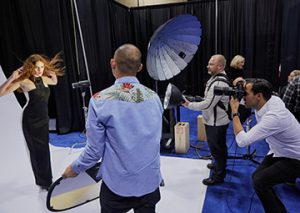 Catch Expert Speakers on Today's Hottest Topics…
Whether it's on our main stage or at one of our many vendor booths, ProFusion is the place to find today's leading experts speaking on the latest trends in technology, offering tips and tricks as well as teaching the latest techniques in Crowdfunding and Social Media Marketing.
See the full list of presenters here
---
Click the banner to claim your Free ProFusion ticket today!



---
Don't forget your student ID card!
Bring a valid student ID to be eligible for the following extras:
Enter student-only draws – prizes include, cameras, Wacom Tablets, Sennheiser Headphones, and so much more!
Save on corporate membership fees for these industry organizations & more:

GTCCC (Greater Toronto Council of Camera Clubs)
CSC (Canadian Society of Cinematographers)
MPIO (Master Photographers International)

Pick up some free SWAG!
Get incredible SHOW SPECIAL PRICING!
---
Bring your Camera and Capture the Action!
Be sure to pop by our Action Photo Set at the Elinchrom Booth where stunt models will defy gravity. There's plenty of action and live models working throughout the show so take advantage and add some beauty shots to your portfolio.
Be sure to have a great time – take some shots and share – you just may win a prize.