This year, ProFusion Expo alongside Elinchrom is excited to announce that Trevor Godinho will be sharing his vast knowledge of lighting and portraiture with the audience on our Creative Lighting Stage.
Trevor's fashion & editorial work has been featured in some of the biggest publications on the planet including, Vogue Italia, Men's Health, Maxim, Elle Canada, Sports Illustrated and Playboy to name just a few.
---
Creating iconic portraits with celebrity portrait photographer Trevor Godinho
Light and shadow play an essential role in the creation of an iconic portrait. Trevor will discuss the new Elinchrom ELB 1200 and how to utilize its amazing power to create stunning and provocative portraits.
Trevor will be demonstrating various lighting setups and techniques that will have you capturing portraits like a pro.
When Trevor isn't presenting on the Lighting Stage, he will be conducting informal shooting demonstrations in the Elinchrom booth using various Elinchrom products including the ELB 1200s.
---
All gallery images © Trevor Godinho and used with permission
---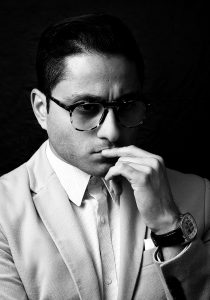 With a career spanning more than a decade, Trevor Godinho is an internationally recognized artist and published photographer, his work gracing the pages of Vogue Italia, Elle Canada, FHM France & India, Men's Health Australia, Sharp Magazine, and much more.
His skill, vision, and passion for his art have led him to travel and establish a reputation in Toronto, New York, Miami, Los Angeles, London, Milano, and Perth – putting him and his camera in front of notable personalities and Hollywood's leading men and women.
In addition to photography, having graduated from the University of Toronto with an Honours Bachelor of Arts degree, Trevor's creative range also includes painting, sculpture, and design. His mastery of these disciplines has led to his work being exhibited at Coldstream Fine Art and the Gardiner Museum in Toronto.
Trevor continues to mentor the next generation of aspiring photographers and artists, who he hopes will continue to tell human interest stories with vision and expressiveness. Trevor is an active supporter of local charities, including the Jays Care Foundation, NATO Association of Canada, and CTV and Salvation Army's Toy Mountain.
Trevor currently resides in Toronto, Canada.
Follow Trevor on social & or visit his website:
Instagram | Facebook | Twitter | Blog | Website
---
Presented by

---