This week, Vistek's Pro Video Solutions Group Technical Account Manager Richard Bacsa goes over five easy ways to improve your live streaming broadcasts and ultimately grow your audience.
---
1) Fast internet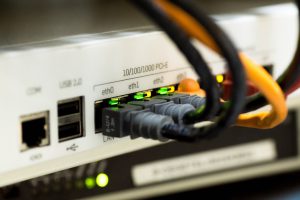 There is nothing worse than lag or drop in frame rate and quality due to your internet speed not being adequate for live streaming your content. Before you get started, check with your service provider on your upload speed, which is the function you require for a reliable stream. You can also test it at Speedtest.
Not sure what upload speed you need to meet basic live streaming requirements? Here's a quick cheat sheet for you:
1920×1080 (1080i/p HD) – minimum 3.5Mbps upload speed
1280×720 (720p HD) – minimum 1.8Mbps upload speed
720×480 (480p) – minimum 1.2Mbps upload speed
2) Understanding the system architecture
It's easy to stream using your phone – complications occur when you start looking for a more advanced system. So, let's break it down.
Cameras – While you can use DSLRs, you'll often find they are unable to send a video feed through HDMI/SDI and record at the same time. For archival and safety purposes, I would recommend a camcorder that has all the proper video connections and unlimited record time.
Tripods – There is a misconception that tripods are just there to hold the camera. A good tripod and head can create a fluid, professional movement.
Cables – There are many types of cables and signals. HDMI & SDI to Fiber, XLR. Make sure to check what your system requires sometimes converters are required to change form one form to another. Measure out the distance, running it from the system, along the wall or right across the floor. Don't forget the protective pads or alternatively, tape it down as it is a safety hazard.
Switchers – For multi-camera applications, you will need a switcher. A switcher can be a very useful tool to showcase multiple angles and cut between other inputs such as PowerPoint.
Free Software Encoders/Dedicated Encoders – Streaming can easily be done using free encoders such as OBS, but these are very taxing on the computer hardware. Sometimes external encoders are required, can sometimes levitate . This takes the heavy lifting of encoding a video stream off the processor of the computer.
Teleprompters – Going live on air, you don't have a second take, so a teleprompter relieves some of the stress from memorizing a script.
Monitors – You need to know what you are shooting! Specifically, when using a switcher. It's useful to have multiple monitors – one is for the program feed, one for multi view when you are dealing with multiple cameras.
Audio – Good video needs to have good audio accompanying it. An external microphone, even if it's on camera, will have better audio quality than the built-in microphone. Don't forget to have a microphone on each of your subjects.
Mixers – When you have multiple sources of audio, you will have to mix them down into a stereo stream, which will allow you to broadcast it out to your viewers.
3) Get the right equipment
When it comes to gear you have an abundance of options to choose from. In the links below, I will include some of the most used gear in the market from small to enterprise level streaming.

Sony has been a household name from the early days of the Walkman & TVs to high end cinema cameras. But what you may not know is that they have high quality, affordable streaming systems. Take a look at their MCX-500 switcher/streamer. They also provide a whole array of cameras with tally, easy connection and colouring.
---
Data Video has been pushing the envelope for turnkey streaming solutions. The KMU system is a great setup when you are looking at using a 4K camera and turning it into 4 different frames that you can adjust, move and switch between.
---

Blackmagic Design has been growing in popularity in the recent years as the go-to system for affordable high-quality switchers and converters. They increase their product offering year over year providing better, faster systems with more and more functionalities. A simple-to-use streaming platform would be their Web Presenter, that can turn any video camera into a 720P webcam on your computer.
---

Teradek provides one of the best quality wireless or wired streaming and monitoring solutions. From their VidiU to their Cube using Wifi or 4G networks, it has never been easier to shed the cables. Don't worry, there is always the option for Ethernet as well.
---

SlingStudio, which I mentioned in my "Five Powerful Video Accessories That Will Help Improve Your Workflow" post, produces the industry's first portable, wireless multi-camera broadcasting platform. Monitor, record, switch, edit and stream live HD-quality video wirelessly to Facebook, YouTube, Twitter/Periscope, Livestream and other RTMP destinations. It's portable, affordable and easy to use.
---
4) Choosing the right Live Streaming platform
A platform can make or break your stream. Make sure to choose the right product for the right audience. Is this for internal use? House of worship? Corporate outreach? Not all live streaming platforms are designed equally – some are free, some are paid. If you know that your audience may not be technically inclined, you have to make sure that the link you send them does not require a login and is easily accessible.
Are you expecting a large volume of people? Make sure the service you use has the servers to handle the capacity. Free services often have ads, or perhaps you are trying to put your own ads into it. All of these are valid questions and there are products out there for you.
Some popular live streaming services are: Ustream, Youtube Live, Facebook Live just to name a few.
5) Audio
I cannot stress this enough… People can look past unpleasant visuals, but they will not stick around if the audio is sub-par. For this there are a variety of ways to improve audio. For example, say you are using your phone to stream. Usually, there is an omni directional microphone built into the phone, which picks up all the audio around you such as cars, people and ambient noise. To mitigate this, a Rode lavalier microphone could benefit you immensely.
For more advanced applications Sennheiser's MKE600 or G4 wireless systems would improve your outcome tenfold. An ecosystem to consider is Sony's intelligent audio system. It allows Sony's UWP system to connect with SMAD-P3 to their compatible camcorders such as the PXW-Z90 without any cables!
Are you shooting multiple people? Using multi-camera setups? Take a look at a mixing board which would allow you to mix multiple channels down to a stream-able stereo format.
---
Get started with your personalized Live Streaming solution today!
Vistek's Commercial Solutions Group understands how technology can be daunting, challenging and pricey. They are happy to share their knowledge and take the worry out of making the wrong decision for your business while tailoring a solution that will best suit your needs.
Click here for more information or to arrange a consultation with a Photo or Video Commercial Solutions Group Technical Account Manager today.
---
Cover photo credit: Sticker Mule on Unsplash