Podcasting has become a very hot topic over the last few years, but how do you get started?
Below, we've put together a list of 10 important things we think you need to get started podcasting:
Good Microphone(s) see more details on mics below.
Good Headphones! See more details below
Microphone support: A mic boom, or proper mic stands to support and isolate the mics. A pop filter or a mic that specifically handles pops well!
A Skype, Zoom, Webex, or GoToMeeting account or some other collaborative software. This will allow you to do remote interviews etc and integrate them into your podcast.
Control Mixer and/or Audio Interface – an external mixer or control surface gives you much more tactile control and quick and easy ways to ride and monitor levels of your various sources. The interface is your gateway to getting external audio into your computer. See more details below.
External Audio Recorder or recording software like GarageBand, or Adobe Audition. See below for more on Recorders.
ID3 editor – Most Podcast software allows you to tag you podcast with an ID3 tag but if not using a 3rd party ID3 editor like the Pa-Software ID3 Editor allows you to embed important info like Title Track and Artist in your podcast and will even allow Album art to appear.
A podcasting Hosting Account like Libsyn, Soundcloud or Blubrry or you can also go for the big one and look at Apple – How to Get a Podcast on Apple Podcasts (iTunes Connect Guide)
Design software or a designer friend! Creating a powerful graphic images to tag with your Podcast will allow listeners to quickly and easily identify your cast from the crowd.
A Facebook page, Website or create Vanity URL. You will want to direct fans and listeners somewhere so they can leave reviews, discuss upcoming or past topics promote additional goods etc. etc. look here for more info on creating a vanity URL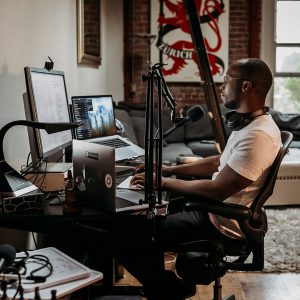 The final thing you need is a space ideally setup up for good overall acoustics and ease of setup for your podcasting system and reasonable privacy so to avoid interruptions. Also ideally if you plan to have live guests a location that works well for them as well.
To get started you need to set an equipment budget, obviously if you are just starting out you may want to start small and scale up as you grow! Obviously most important are your mic(s) mixers/recorders and headphones. Remember you will have a hard time growing listeners if your equipment is inferior.
---
---
Mics
While there are a wide selection of microphones that are suitable for podcasting you first have to consider how they connect. Are you putting your audio directly into a computer then perhaps the choice of a USB connected mic is a good place to start. You want to pick one that is good for the environment that you will be recording in and good for vocals.
---
Introducing the RØDE NT-USB Mini (links to Vistek product page)
---
For connecting to an external system or mixer or audio interface you may want to consider a XLR large Diaphragm desktop type style for its excellent vocal characteristics or if you are connecting to a portable system perhaps Lavalier type are most suitable.
---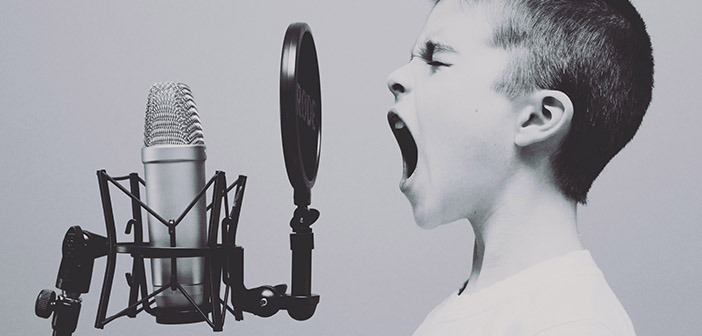 ---
Mixers & Control Systems
There are a large certainly a large selection of mixers and systems available you need to consider: ease of operation is key the whole idea of an external device is to make things easier and more logical to operate in a live environment, sliding faders make it quick and easy to adjust levels, but even a knob is easier than clicking on something in a software interface.
---
An overview of the RØDECaster Pro – Podcast Production Studio (links to Vistek product page)
---
Ease of connectivity is also important. Does it support the XLRs, Jacks, line levels, etc. that make it easy to connect all the sources you need? Remember to consider the amount of total sources you need to control both for today, and if your system was to grow for tomorrow.
---
Zoom LiveTrak L-8 : Sound Pads (links to Vistek product page)
---
Then consider if you want something that connects directly to a computer via a built in interface or how you plan to interface with an external device, how remote audio connections would work through the mixer. And also perhaps consider built in playback of stingers, openings, closings or how you would handle those and maybe even built in recording capability.
Interfaces
As mentioned above most computers want a USB style interface to connect external audio devices, of course many computers still come the mic/speaker 3.5mm connectors or a single combo TRRS for audio, but for more professional use like with most mixers and if you want to use better mics its best to come through a USB. USB 2 or 3 is most common, and if your computer is newer and only supports USB-C you will likely have to buy an adapter to support USB 2-3 connectivity, or some new mics designed primarily for phones and tablets can also directly connect.
Many beginner mics have a USB interface built right in and some smaller mixers also have a USB interface built in.
Or you can simply utilize an external interface box that typically has analogue connectors on it and a USB output. This interface box can simply sit in between the mic or mixer depending on its capability.
The USB is discoverable as a source in most common audio and collaboration Apps.
Audio Recorders
There are a huge range of audio recorders from portable handheld style, to compact professional mixers with built in recording. Also as mentioned above some mixing consoles also offer built in recording.
---
Behringer XEYNX QX1002USB Small Format Mixer & USB Audio Interface (links to Vistek product page)
---
All will generally do a good job obviously some have better specs and operational features.
Your choice in a recorder will likely come down to the type and amount of audio sources you need to connect and record, as well as what type of connections you therefore need to support.
You might also consider taking your Podcasting to the next level and doing full Audio/Video Livestreams. Learn more about Livestreaming here
So get out there make more than noise and get yourself (and others) heard. There is a whole world of possibility out there. Why not get started today.
At Vistek we are not just "All about the Image" we are also "All about the Sound!"
---
Cover Image Credit: Jonathan Farber on Unsplash