Manufacturers… What kind of systems are there?
There are many different manufacturers that design different systems for their drop in filter lines. Different mounts allow you to use multiple filters in conjunction with each other and many other features makes your lens more adaptable to their system.
Although some features may be unique to each manufacturer, the generic size of filter systems are 4"x4" (100mmx100mm) and 4"x6" (100mmx150mm).  The 4"x6" are designed for graduated filters so you have more control of where the gradation falls in your image.  Other sizes are available for smaller lenses like 75mmx75mm.
The design of the filter holders are fairly similar, typically there is a mount that holds the filters in the front of the lens.  Some holders have multiple slots so you can use a combination of filters at the same time.  These can be permanently attached as one unit or customizable.  Keep in mind that the more filters you add the less your angle of view will become.
Specific companies that produce drop-in filters like B+W, Hoya, Lee Filters, Cokin, and Tiffen manufactures a wide range of 4"x4" and 4"x6" filters to accommodate these universal filter holders.
These companies also produce screw-in filters in a multitude of sizes and types.
---

Instead of using ordinary window glass, B+W uses Schott German optical glass from which the filters are diamond cut, precision ground, and then polished to ensure flatness on both surfaces and a uniform thickness throughout.  Each filter is interferometrically tested for plane parallelism which is the same process that is routinely used by the world's leading lens makers.
B+W has also developed a line of filters that have a Multi Resistant Coating (MRC) that eliminates surface reflections on both sides of the filter.  This maximizes light transmission and offers an extraordinary hardness that minimizes scratching and facilitates cleaning as it is water and dirt repelling.
The filter frames on B+W filters are made out of a black, corrosion-free brass ring that also reduces surface reflections and minimizes distortion or binding of filter to the lens.  All filters must pass manual as well as automated tests to insure that each and every one that leaves the factory meets B&W's critical standards.
B+W Filters »
---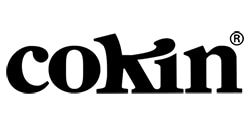 Cokin manufactures a wide range of  screw-in and drop-in filters. To maximize the creative potential of the drop-in filters, Cokin offers its Creative Filter System. It consists of three easy-to-assemble components that allow you to use Cokin's full range of correction and effects filters. The components are (i) the adapter ring (ii) the filter holder and (iii) and the filter itself.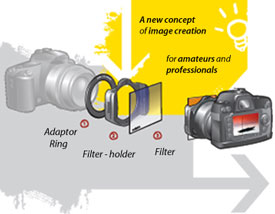 The adapter ring attaches directly to your camera and the holder slips and locks onto this ring.  The filter is then slipped into the appropriate slot on the holder.  Naturally, this system allows you to use the same filter on a variety of lenses instead of purchasing individual filters to fit each lens size.
Designed for amateur and professional cameras, the Cokin Creative Filter System includes numerous accessories to make filter use extra-convenient  for the photographer.

A total of four series of filter systems are available:  the A Series, P Series, Z-PRO Series, and X-PRO Series.  Each system is of similar design; the only difference is their size, which is related to the size of lens they will be used on.
Cokin Filters »
A-Series
This series is meant for lenses with a focal length of 35mm and higher and a diameter of up to 62mm.  A-Series filters are 67mm wide.
[toggle title="The following ring adapters are available for the A-Series:" load="hide"]
36mm
37mm
39mm
40.5mm
41mm
42mm
43mm
43.5mm
44mm
46mm
48mm
49mm
52mm
54mm
55mm
58mm
62mm
Hasselblad B50 [/toggle]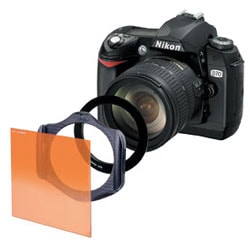 P-Series
This series is meant for lenses with a focal length of 20, 24mm or 28mm, as well as wide angle zooms (24-50mm, 28-85mm, 35-135mm).  The P-Series is recommended for lenses that have a diameter of up to 82mm.  Filters in this series are 84mm wide.
The P-filter holder is the ideal filter holder for avoiding vignetting on 35mm format lenses. Up to three filters can be used to create a unique effect.
[toggle title="The following ring adapters are available for the P-Series:" load="hide"]
48mm
49mm
52mm
55mm
58mm
62mm
67mm
72mm
77mm
82mm
Hasselblad B50
Hasselblad B60
Hasselblad B70
Rollei VI
Universal Ring[/toggle]
Z-PRO Series
This series is specially designed for the larger diameter lenses found on medium format cameras as well as wide-angle lenses in general. It is the recommended choice for 35mm camera lenses with focal lengths of 20mm or larger. This Series is also used on video/broadcast cameras.   The Z-PRO Series system is adaptable to all lens sizes up to 96mm in diameter, and its filters come in two different sizes:  a standard size of 100 x 100mm and a graduated filter size of 100 x 150mm. The Z-PRO filter holder is designed to fit both film and digital cameras, including DSLRs and medium format cameras.  As mentioned above, it's also designed to fit semi-professional and professional video/broadcast cameras, right up to the new HD models.
This system is totally modular; the Z-PRO filter holder can be easily dismantled and reconfigured. Cokin has integrated a new Spacer System (in orange in the drawings) into the holder which accepts filters in all popular dimensions.

In order to accommodate extra wide-angle lenses, the Z-PRO Filter-Holder can be dismantled, allowing the removal of several filter slots. This procedure removes all unused slots from the field of view and protects against the risk of vignetting.

There is another way to prevent all risks of vignetting without dismantling it and therefore gaining time. The Z-PRO Series filter holder is fully reversible, meaning that a filter that fit in the adapter ring's slot and the adapter ring can be placed in the first filter slot. Therefore the filter can be positioned very close to the lens and the edges of the holder are no longer obstacle in the field of use.

COKIN's Z-PRO System is totally compatible with the following 100mm (4″) systems: Lee Filters®, Tiffen®, and B+W®.
[toggle title="The following ring adapters are available for the Z-PRO Series:" load="hide"]
49mm
52mm
55mm
58mm
62mm
67mm
72mm
77mm
82mm
86mm (0.75 thread)
86mm (1.00 thread)
95mm (1.00 thread)
96mm (1.00 thread)
Hasselblad B60
Hasselblad B70
Rollei VI[/toggle]
X-PRO Series
With a 170mm x 130mm filter size, the Cokin X-PRO series has been created to offer the professional photographer a comprehensive range of filters that can be used on medium and large format camera systems, as well as extreme wide angle lenses used by photographers, videographers and broadcasters.
Holders: made of lightweight material, the holder has a exclusive Ring Locker System. Developed by Cokin, the system ensures that the holder can be secured in a certain position and that the filter is kept parallel to the lens. If the photographer requires the filter to be rotated, this can also be achieved.
Adapter rings: available in sizes from 62mm to 112mm and will fit diameters of lenses up to 118mm with a 4-point universal ring. Aimed at the professional and enthusiast photographer, the X-PRO series total over 80 different filters (84mm wide) including coloured, centre spots, pastel/ diffusers to graduated and neutral density filters.
[toggle title="The following ring adapters are available for the X-Pro Series:" load="hide"]
62mm
67mm
77mm
82mm
86mm (0.75 thread)
86mm (1.00 thread)
95mm (1.00 thread)
96mm (1.00 thread)
105mm (0.75mm thread)
105mm (1.00 thread)
112mm (0.75mm thread)
112mm (1.00mm thread)
112mm (1.50mm thread)
Hasselblad B60
Hasselblad B70
Rollei VI
Universal Ring[/toggle]
---

The Lee Drop-in Filter Holder System is versatile and easy to use. It is designed for 35mm, medium format, large format or even extreme wide-angle lenses.
The key to this system's versatility is an adapter ring that screws onto the front of the lens..  Once the appropriate size adapter is fitted, the rest of the system clips neatly and easily into place.  A filter holder with removable guides enables you to decide which combination of filters – starting with gels up to 4mm in thickness – would be most suitable for your needs.  In addition, the holder rotates so you can make the most of the selected filter's effects. This capability can be enhanced when two or more holders are fitted together to accept additional filters.
For added convenience, the holder easily clips on and off a lens.  The system also features a unique, lightweight lens hood which operates without requiring rails or guides.
Lee Filters »
---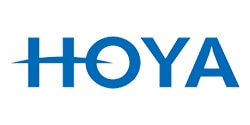 Hoya manufactures a full line of filters in both standard and multi-coated varieties.  Their standard filters have one layer of anti-reflective coating applied to each surface of the glass.  The multi-coated line features a three layer coating that further reduces light reflections and is bonded to the glass in a furnace at a temperature of up to 800°F. Hoya's Super Multi-coated filters have 5 layers of anti-reflective coating and a transparent easy-clean top coat.
To enhance the quality of their colour filters, Hoya adds different raw elements, like gold, and chemicals to the optical glass while it is still in a molten state.  This insures that filter glass is uniformly coloured all the way through.  So there is never any risk of uneven colouration, shifting or fading of the colour, or delamination.  Finally, the two surfaces are ground and polished for perfect flatness.
Hoya »
---

Tiffen filters are manufactured using ColorCore™ technology, a closely guarded proprietary process that entails permanently laminating the filter material in between two pieces of optical glass. Once the lamination process is completed, the optical glass is ground flat to tolerances of one ten-thousandth of an inch, then mounted in precision metal rings.
The ColorCore process allows Tiffen to control the colour and density of their filters, as well as the characteristics of their special effects filters.  When Tiffen filters are ground and polished, the ColorCore is unaffected, so colour and density remain uniform.
Tiffen also carries an abundant amount of special effects filters like star, fog, and smoke filters.
Tiffen »