Photo Fabulousness ——
Wedding Legs by Brennan Schnell on Vistek' Photo and Video Pool on Flickr
Online Awesomeness ——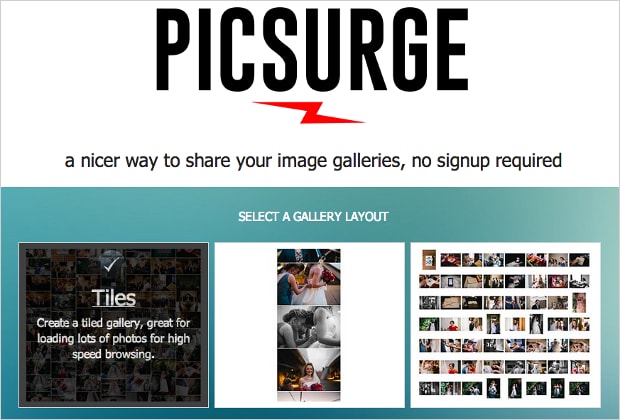 PicSurge is a super-simple gallery service created by Australian wedding photographer Mark Tolson. PicSurge allows users to upload unlimited photos (10Mb file size limit) into one of three gallery layouts which can be accessed anyone. Best of all, every photo is then downloadable in their native resolution and format.
PicSurge brings the best things about Imgur and Smug Mug together, but is completely FREE. At least for now. There's no sign-up or login, you just select your gallery type and go. Amazing.
Tolson originally created this site for his own personal use but he posted about his site to Reddit's r/photography and asked for suggestions, which he got in droves. Since then he's kept the site updated with many new features, while even newer ones are on the way. Most importantly, the Terms of Service have been added, showing that you keep 100% of your copyright.
To get more information about this site and to give your feedback, head on over to the Reddit thread. And if you want to try it out yourself get on over to PicSurge and start uploading.
(via Reddit)
Video Virtuosity ——
Yesterday we launched a new contest called Wedding Woes and with the spirit of that contest in mind we present this video. Share your most cringe-inducing wedding photography story on our blog for a chance to win a 1TB G-DRIVE! Contest runs until October 18th and the winner will be announced October 21.
Photographers hair on fire from Beyond Measure on Vimeo.