Choosing the type of printing paper that's right for your photography is a personal decision that's influenced by many factors, including the results you hope to achieve and the purpose for which the print is intended. Over time, you'll probably gravitate toward a particular brand that consistently delivers the quality you want and make it your go-to, but here are some additional elements to take into account when shopping for photo paper.  
Finish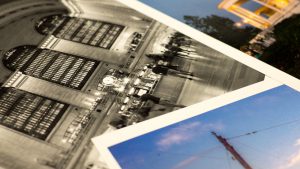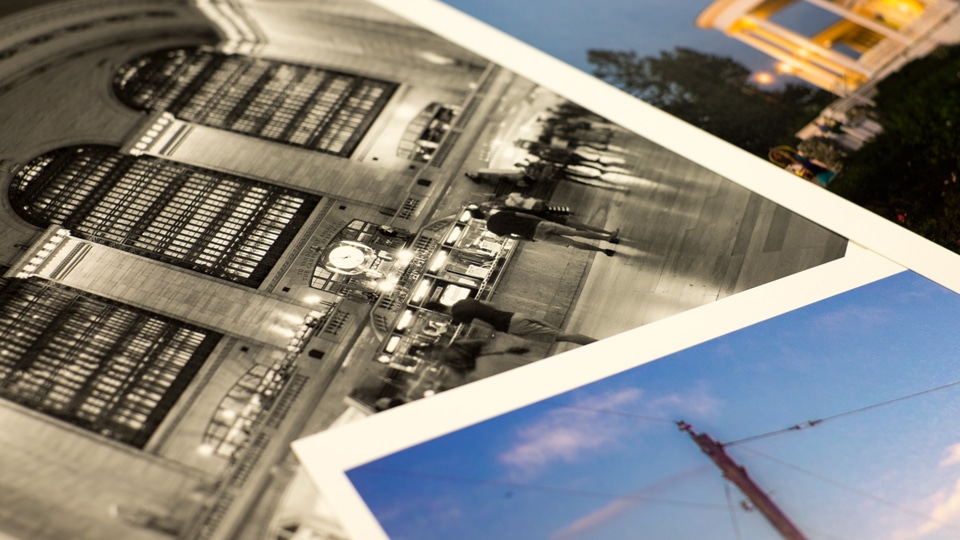 The finish is one of the first things we notice about a printed photo because it's immediately apparent, both from a visual and a tactile perspective. Choices range from smooth and glossy to heavily textured matte, with several variations in between, each with its own pros and cons. 
Glossy Finish
A glossy finish produces a crisp, clear image with rich saturated colours and deep blacks, and brings out the best in finely detailed photographs. This finish has a certain nostalgic appeal for many and it's perfect for a wide range of printing needs. However, some photographers find the reflective glare distracting and unsuited to work destined for exhibition. 
Matte Finish
A matte finish has the ability to render sharper contrasts and deeper blacks, and for that reason some photographers prefer this option for their monochromes, but some matte-finish fine-art paper is also known for its broad colour gamut. A matte texture can seem less premium than glossy, but it has a unique ability to lend a painterly aesthetic to your photos. Bonus: you don't have to worry about leaving fingerprints when handling them.
Satin Finish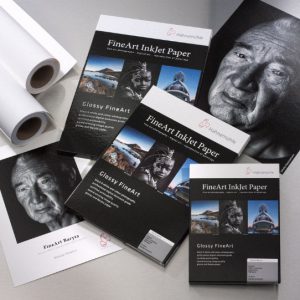 Satin finish lands squarely in the middle, displaying muted attributes of both the glossy and matte finishes: with just enough texture, just enough reflectivity, it's the Goldilocks option and the paper of choice for multiple applications. Sometimes called semi-gloss, and with variations including silk, pearl and lustre, satin is especially useful for photos that will be framed and mounted behind glass.
Fine Art Paper
Fine art paper is the only real option for exhibition-quality prints. Made of unbleached, natural fibres, it absorbs inks and pigments better, won't fade over time and is considered archival quality.
Weight & Thickness
A photo paper's weight is measured in grams per one square metre of area (gsm). The higher the gsm, the thicker the paper. Weights range from 120gsm to 300gsm. A heavier weight makes a print seem more luxurious when held but doesn't alter the appearance of the photo in any way. If your prints are destined for exhibition, remember that a heavier paper is also less likely to bend and buckle over time. 
Thickness is expressed in mils (thousandths of an inch). Thicker papers are typically more rigid, but check to see if your printer accepts the weight and thickness of the paper before you make your purchase, to avoid jams and other potential problems.
Final Note
Always be sure you're choosing paper that's compatible with the kind of printer you're using – inkjet or dye-sub – and remember that it often makes sense to stick with the same brand. Photo paper produced by the manufacturer of the printer will usually be optimized for use on their own line of equipment.
---
Check out some of the brands that Vistek offers and discover which paper best suits your needs
Hahnemuhle
"For centuries, papers with the familiar Hahnemuhle 'Rooster' logo have been used and trusted by artists of all stripes: painters, graphic artists and designers, illustrators, printers, photographers advertising experts, archivists, and others. They all choose Hahnemuhle because they will settle for nothing but the very best."
Moab Paper Co.
"Moab is part of the Legion Paper family of products, North America's premier distributor of fine art papers and museum board sourced from mills around the world, is committed to developing innovative products, which empower visual thinkers to share their inspiration."
Canson Infinity
"Canson has been producing the world's finest art papers from mills in France for more than five centuries. Using the purest materials and traditional techniques. Today, Canson still manufactures their own paper ensuring the consistency and quality artists continue to rely on."
Epson
"If you operate a fine art gallery, a design firm or photographic studio and require consistently outstanding results, do yourself a favour and print your next piece on Epson paper."
Ilford
"Ilford is the only company to have integrated research and development activities for dyes, inks and media used in inkjet printing. ILFORD is also the only company to offer a complete range of color papers and films for digital photographic applications."
Canon
"Some things work better together. That's why it makes sense to use Canon genuine inks and photo paper with your PIXMA printer to get the best results."

---
Don't forget to check out our other Printing at Home posts to learn some more helpful tips and tricks!
Printing at home: Finding the right photo editing software for you
Printing At Home: Basic Photo Editing and Retouching Tutorials
Printing at home: How to choose the right printer for your needs
---
Cover Image Photo Credit – Soragrit Wongsa on Unsplash