Don't worry you are not alone!
It seems as everyone is trying to get connected these days for live streaming etc., but there is a ton of confusion about, what connects what to what – or, how do I get there from here?
[pullquote]To find out what type of connection common video interface, capture cards and switchers use, skip down to part 2.)[/pullquote]
So let's review.
Part 1. What the hell is a USB?
The USB (Universal Serial Bus) standard has multiple different levels and also connector types and some of them have more than one other name, they look the same but support other standards!
Nice, let's keep it simple eh! Well it's just because things evolve and change so fast in the digital world that we need to keep coming up with newer faster standards.
The 3 Current Standards of USB Connections
Today we are mostly talking USB 2 and up. The USB 2 connector is most commonly used for audio connectivity, data transfer and device charging.
USB 2 is good for audio and can also be used for HD video with some older devices, but you really need USB 3 for Full HD Video high frame rate and/or faster data file transfer. The latest USB C connector is even better, especially for moving data.
Now, one thing to note is that virtually all video capture devices also support audio and the computer applications can choose to use that audio follow video, or a separate audio source.
In USB 2 there are 4 main types of connectors Type-A, Type-B, Mini and Micro. Of course there are both Male and Female versions of each.
USB 2 Type A is the type you will find on the majority of computers and device chargers.
USB 2 Type B is commonly also called a printer port. Though you will find it on many interface or capture cards as well.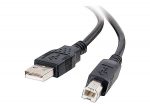 Here is an example of USB 2 Male with Type A & Type B connections. The Type A connection is most common on PC's etc. and the Type B connection is most commonly found on printers and scanners capture devices etc. You often need a cable with both connections like the one pictured right.
---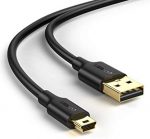 USB Mini
The mini is mostly abandoned now but it was used on some older phones as a charging port and was used on a lot of devices as a data communications port.
---
USB Micro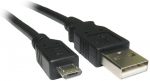 The USB Micro connector is still fairly common as a charging and data port for many devices.
---
USB 3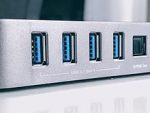 USB 3 is a somewhat generic term as most devices today are actually USB 3.1 or 3.2 compliant. USB 3 supports a much faster data transfer speed of up to 5Mbps.
Again, there are many video interface capture cards and video devices that can directly connect through this USB 3 platform.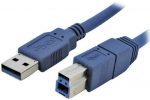 USB 3 is usually easily identified as connectors and ports have a blue colour or tab.
USB 3 has a much faster data throughput than USB 2 which is why it can support Full HD video.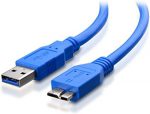 Another USB 3 Type is the Type A to Type 3 USB Micro.
This kind of double micro connector is found on many USB 3 compatible hard drives. If you see this type of USB 3 connection, the device will most likely support high speed transfers.
Important: Do NOT try to use the older USB 2 micro with a USB 3 Micro connection.
---
USB C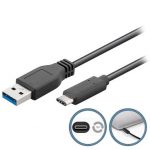 Next up is the introduction of the USB C connection.
USB C has the advantage of being 180 degree reversible or flippable so it's very easy to plug in and out of this type of connection, you will find it on lots of new laptops and smart devices as well as storage devices.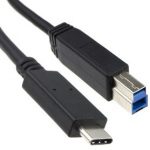 There are even USB C Type to HDMI adapters.
USB C supports USB 3 protocol of 5Mbps and more up to 10Mbps (USB 3.1).
You will also find many video interface or capture devices that use this USB C to Type B connector.
---
Thunderbolt
Now let's talk Apple. Of course their moniker was always "Think Different" so they liked to "be different".
Rather than adopt fully the USB standard they wanted to take things further so they developed a data protocol called Thunderbolt.
Originally they wanted it to be a physically different connector from anything in the USB camp so they adopted another industry standard connector and called it Thunderbolt which is now referred to as TB1.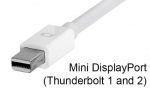 The original Thunderbolt connection was based on the standard Mini DisplayPort connector which was quite new at the time. (The original standard DisplayPort looks a lot like a standard HDMI, but one side is square) – FYI Both Mini and standard DisplayPorts can also be easily adapted to HDMI for connection to a monitor.
Basically TB1 preceded the USB 3 Gen 3.1 update and could therefore support 10Mbps and then Apple revised it to TB2 which could support up to 20Mbps.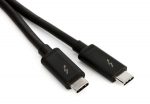 Now Apple has upped the speed with Thunderbolt 3 up to 40Mbps, so they needed a new connector to support that level of speed, so they have used what looks physically like the USB C connector.
Note: TB3 is backwards compatible to TB2 and even TB1 with an adapter cable, but transfer speeds will be limited by the older device.
Many Hard Drives as well will either support the USB C or full Thunderbolt 3 high speed interface, you always need to check the spec though as the transfer speed will be throttled to the lower standard of either device.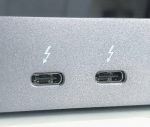 It's important to note that although USB C data protocol is supported on a Thunderbolt 3 type cable including for display applications- NOT all USB C cables support Thunderbolt 3, and NOT all USB C devices support Thunderbolt 3. The ones that do usually sport the identifying Thunderbolt logo.
This gets especially confusing because now there is a new USB C standard protocol as well that now also supports speeds up to 40Mbps.
So really it now almost comes down to you say Tomato, I say Tamato as USB C or Thunderbolt 3 physically look the same.
So did you get all that? Easy right?
---
Part 2 – Connecting common Interface cards, capture devices, and switchers etc. for Video collaboration and Live Streaming.
So let's take a quick look at several common interface/capture cards and switchers used for live streaming and what connections they use.
Common gamer and video collaboration consumer grade interface capture cards: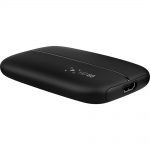 The Elgato HD60 works with HD up to 60fps and sports a standard HDMI in and loop through HDMI out with a USB 2 mini Type Interface Capture port. Comes with a USB Type A to Mini cable & short HDMI cable. Works with iOS Sierra and up, or Windows 10 64 bit.
A newer version of this card called the HD60s is also becoming available. Basically it updates the USB-2 mini with a USB-C port. So it includes the USB A to USB-C cable and short HDMI. Same computer spec.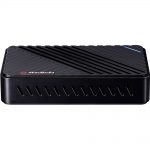 The Avermedia works with HD 60 & 4K30 and sports a standard HDMI in and loop through HDMI out with a USB-C Type Interface Capture port.
It comes with a USB Type A to USB C cable & short HDMI cable and works with iOS Sierra and up, or Windows 10 64 bit version.
Generally it works well with HD on most computers, but needs a computer with more processing to support 4K.
There are a quite a number of more professional Interface/Capture cards & devices available:
All of the devices have a slightly better grade of build quality, features and reliability from the devices mentioned above.
Note: There are often variations of these cards that can plug directly into the PCI bus of a desktop computer, usually with similar features, although, some are able to capture multiple streams at once.
For our purposes here, we will focus on the common external ones.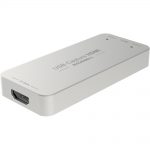 Magewell USB Capture HDMI Gen 2
This is a very popular interface professional device as it requires no drivers or other software to be loaded simply plug into you Mac or PC and you're A/V gateway is opened to all of the most popular applications in the industry. It has a USB Type A port, cable NOT included so you do need to buy a USB 3 Type A to Type A cable.
The Magewell USB Capture HDMI Gen 2 is available in both HDMI and SDI versions.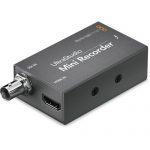 ---
Blackmagic Design UltraStudio Mini
The UltraStudio Mini can capture either SDI or HDMI and uses the older TB1 or Mini DisplayPort type connector for computer connection. The Cable is NOT included. You can also use an adapter cable TB1 (Mini DisplayPort) to USB C.
Originally designed only to work with Mac computers the UltraStudio Mini will now also work with some of the newer Thunderbolt compatible PC's.
---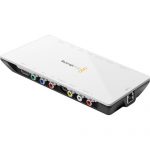 Blackmagic Design Intensity Shuttle USB 3.0
Available in USB3 or Thunderbolt 1 (DisplayPort) versions.
The Intensity either has a USB 3 Type B, cable NOT included or a Thunderbolt 1 Mini DisplayPort cable NOT included. On the Thunderbolt version you can also use an adapter cable TB1 (Mini DisplayPort) to USB C, originally designed only for Mac it can work with some newer Thunderbolt compatible PC's as well.
Note: All of the above devices power via the USB port from the computer!
---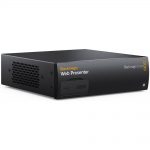 Blackmagic Design Web Presenter
The Blackmagic Design Web Presenter uses a standard USB 3 Type A (computer) to Type B on the Web Presenter (cable NOT included). It has an Optional Control panel so you can live switch between SDI and HDMI inputs. Works with PC or Mac.
Note: Does not include a power cable.
---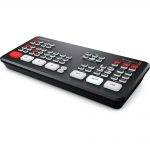 Blackmagic Design ATEM Mini or ATEM Mini Pro
The ATEM Mini (Pro) have a USB C type interface on them so you can buy separately a cable to connect to your computer with either USB-C to USB 3 Type A or USB C to Thunderbolt 3. Both are Mac and PC compatible.
Note: Both the ATEM Mini and Mini Pro includes a power supply and power cord.
With other 3rd party (Roland, Datavideo, Sony etc.) switchers, it's always best to check the device specs. If they support USB for video output, it's usually a USB Type B.
If they do not have a video compatible USB output then you can use one of the devices above, interface/capture cards or SDI or HDMI output from the switcher.
Some switcher models also do have integrated IP LAN port streaming capability which means they do not require a separate computer to do the streaming.
Whatever you needs for your project, at Vistek we have all of the latest gear to make your vision a reality!