Atomos has announced two new monitor/recorders, the Ninja V+ which supports 8Kp30 ProRes RAW as well as the Ninja Stream supporting 4Kp60 HDR with Wi-Fi, Ethernet and USB-C connections.
They also announced H.265 (HEVC) codec support for older Ninja V models via a paid upgrade.
Ninja V+
The Ninja V+ features a new stealth grey bezel colour and the same compact 5″ footprint and 1,000-nit, 10-stop HDR screen as other Ninja V models.
8Kp30 ProRes RAW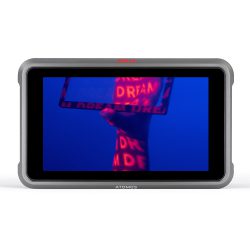 It also features beefed up processing power, which is needed to support its exciting new ability, the continuous recording of 8Kp30 and 4Kp120 in Apple ProRes RAW*.
*As of the announcement date, the ability to record in 8K RAW is only supported by the Canon EOS R5, but it will be supported by more cameras in the future.
4Kp120 ProRes RAW
Currently, 4Kp120 recording ProRes RAW is also possible when shooting with either the Z CAM E2 or E2-M4 with additional support for more cameras to come.
---
---
H.265 (HEVC) Codec
Also added is the ability to record using the 10-bit H.265 (HEVC) codec allowing for high quality compressed recordings with small file sizes.
Note: Starting in May, existing Ninja V and Ninja V ProKit users will also be able to add the H.265 codec via a paid firmware upgrade.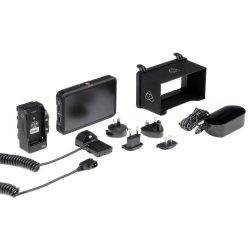 SDI Support
It will also support 4Kp120 ProRes RAW recording mode from the SDI RAW output of Sony's FX6 and FX9 (with the XDCA-FX9 extension kit) cameras*. However, you will need the (sold separately)  AtomX module with RAW activation. *Support will be added in in May 2021.
Alternatively, you can purchase the Ninja V+ ProKit which includes the monitor along with the AtomX module and other useful accessories such as a D-Tap cable, battery eliminator, sunhood and power supply.
Key Features:
10-bit HDR
4K 60p Video
H.265 (HEVC)
HD 60p up to 120p
Apple ProRes
8K 30p / 4K 120p RAW
4K 60p RAW
RAW over HDMI
AVID DNx
---
Atomos Ninja Stream – Social Distance Production Tool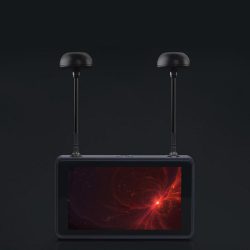 Atomos hasn't released the full details about the Ninja Stream as of yet, but they do say that it was "designed specifically to overcome the challenges of today's socially distanced productions."
It features built-in Wi-Fi, ethernet and USB-C connectivity supporting simultaneous recording to both ProRes and H.264/5 proxy (with shared file names and timecode), while sending a video feeds to web-based platforms, smart devices or other Ninjas.
It also supports up to 4Kp60 HDR and will be able to live stream content via Wi-Fi and Ethernet 1Gbe at up to 300m without the need of a computer.
Note: Atomos says that more information about the Ninja Stream will be released on their website on Thursday, May 6, 2021.
---