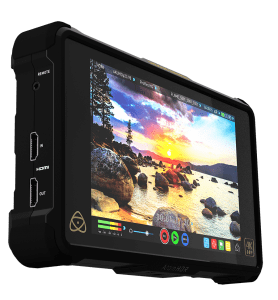 Continuing their recent trend of fire themed names (Shogun Flame & Ninja Flame), Atomos has announced the latest in the now 8-strong HDR recorder line-up their new flagship model, the Shogun Inferno this week at NAB Show.
According to Atomos the Shogun Inferno all-in-one recording device provides "the best of everything they do in a single product" offering users a combination of the most advanced monitor technologies – 1500nit/10bit/HDR, the latest recording capability – 4Kp60 over Quad-SDI, along with playback & editing functionality.
"The best technology booms are the ones that truly WOW long standing professionals. HDR on the Atomos products leaves even the most experienced video professional excited like a kid in a candy store – never before have you actually been able to monitor and shoot what you are actually seeing" – Jeromy Young CEO and Co-founder.
---
The Shogun Inferno offers all of the premium monitoring features on the previously announced Shogun Flame, – 10 stops of dynamic range with AtomHDR, 1500nit brightness for outdoor monitoring & 10-bit processing for smooth colour transitions, but then adds:
High-quality 4K 60p and HD 240p ProRes and DNxHR recording, from either a video or Raw signal – perfect for sports broadcasters and slow motion recordings
Raw to Raw CDNG recording up to 4K DCI/UHD 30p or 2K/HD 120p. CDNG support will also be added to existing Shogun Flame, Shogun and Shogun Studio users one month after the launch of Inferno.
Versatility of Quad SDI connections to let you input from cameras with 1.5/3/6/12G SDI outputs without the need for converters – perfect for 4K HDR multi-cam events
PQ (ST-2084) input that allows you to use Inferno as a grading monitor in Post
PQ (ST-2084) output standard HDR to compatible TVs and monitors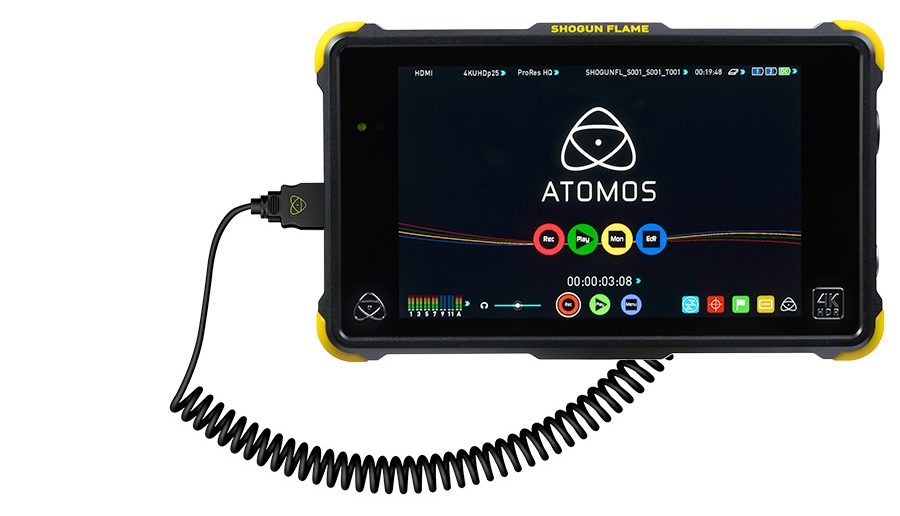 ---
As with all Atomos products, the Shogun Inferno comes pre-loaded with an extensive suite of scopes, all accessible via its touch screen interface.
It's Video OS offers tools for focus, framing & exposure (Focus peaking, 2:1/1:1 zoom, Zebra, False Color, Safe Area, luma/RGB parade, vectorscope) as well as flexible 3D LUT implementation (use built-in LUTs or upload .cube files) and options for de-squeezing anamorphic content.
You can also monitor up to 8 channels of embedded HDMI audio and up to 12 channels of SHI audio or use the included XLR breakout cable to connect to external microphones for balanced analogue audio.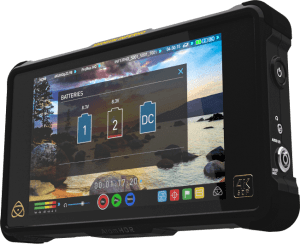 The Inferno also adds recording functionality not found in other recorders allowing you to trigger start/stop recording over HDMI or SDI popular cameras, convert interlace to progressive signals on the fly with the built-in 3:2 and 2:2 pulldown and use features like Pre-roll (continuous cache recording) and time-lapse to maximise creativity.
Featuring Atomos's patented continuous power system, the Inferno's hot swappable dual battery system automatically swaps to the second battery when power is low. Keeping the dual batteries charged is a snap with the included fast battery charger. Two 4-cell batteries and a D-Tap to DC coiled cable to ensure you don't lose power when out in the field.
---
Order the Atomos Shogun Inferno from Vistek.
[button link="http://bit.ly/1YJi51E" target="new" text_color="#ffffff" color="#007ac3″]BUY NOW[/button]
---
[toggle title="Atomos Shogun Inferno in Detail" load="hide"]
AtomHDR; AtomHDR lets you shoot with the high brightness range of your camera's Log profile and preview the final, vibrant post-production HDR result.
4K 60p; Record and play out pristine ProRes/ DNxHR in 4K resolution and 24/25/30/50/60p frame rates.
HD 240p; Apart from 4K recording, high frame rate HD from 50p to 240p can be recorded from cameras that output these high frame rates.
Quad SDI; The Quad SDI inputs let you connect from cameras with 1.5/3/6/12G SDI outputs without the need for converters.
Raw recording; Capture the RAW output from Sony FS7/ FS700 and Canon C300MKII/C500 over SDI, recording to either ProRes, DNxHR or CDNG.
10-bit monitor; 10-bit monitor processing increases the number of colours from 16.7 million for standard 8-bit panels to 1.07 billion, minimizing colour banding on screen.
7" 1500nit brightness; For Standard Dynamic Range (SDR) shooting ramp the brightness slider up to 1500 nit for hood-free outdoor monitoring.
Apple ProRes & AVID DNxHR recording; Record to visually-lossless Apple ProRes or AVID DNxHD in Rec709 or Log formats as an edit friendly, visually lossless industry benchmark independent of the camera brand used.
PQ in/out; Take PQ out into larger HDR compatible screens or feed HDR from your NLE into the PQ input for HDR grading using the Inferno.
Custom looks; Apply a custom look to footage by uploading and applying ".cube" 3D LUT's. View in full/half mode on screen, output it to a monitor or record into the footage.
Continuous power; Our patent pending Continuous power system automatically swaps to the second battery when power is low for uninterrupted recording in the field.
Playlist generation; Create playlists easily, either entire clips or tagged parts of clips, for playback on the unit or out to a larger screen.[/toggle]