Blackmagic Design has announced three new products aimed squarely at helping web broadcasters improve their live production workflow…
---
Blackmagic ATEM Television Studio HD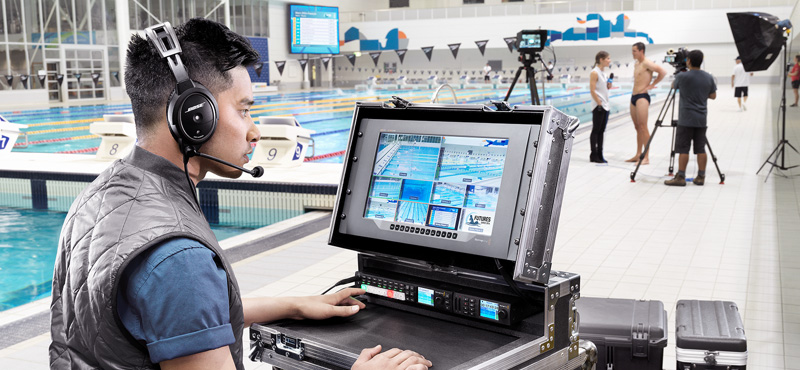 The new ATEM Television Studio HD is a professional quality live production switcher designed for both broadcast users and AV professionals based on the Teranex Mini converters.

The new ATEM features 4 SDI and 4 HDMI inputs allowing users to connect up to 8 simultaneous sources and supports all SD and HD formats up to 1080p60.
You also get high-end broadcast features, such as re-sync on all inputs, meaning you'll always get clean switching regardless of camera type (professional or consumer grade).
Other new features include routable, multi-view output, allowing you to view all
 of your sources, including audio meters and the built-in control panel giving you the ability to live switch right from the front panel.

There is also a built-in DVE, built in talkback headset connections, 4 program outputs for cameras that have mix minus support, flash based media store, an independent aux output and analogue audio inputs on XLR connectors.
Blackmagic Design ATEM Studio HD SWATEMTVSTU/HD Editing, Digital Non Linear Video Converters Broadcast Format converters black magic videosThe world's first live production switcher for broadcast, professional and AV users with HDMI and SDI inputs, multi view, talkback, DVE, audio mixer, flash media players and more.
---
HyperDeck Studio Mini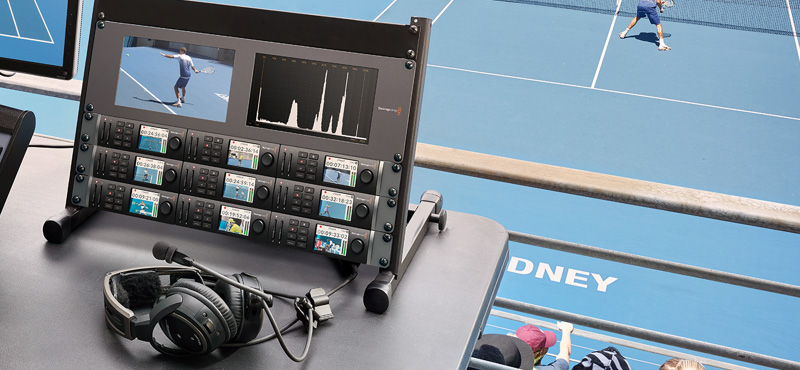 The feature packed HyperDeck Studio Mini is a scaled down (in size only) broadcast deck that's roughly a third of the size of Blackmagic's current HyperDeck models. But as the saying goes, "good things come in small packages" and the Studio Mini is more than capable of clip playback, recording masters for live production and handling
 digital signage.

Small and mighty, the Studio Mini is still a true professional deck and will record and play back broadcast quality 10-bit video as ProRes files on SD and UHS-II cards.
Other features include:
6G-SDI for working with all formats up to 2160p30
HDMI 2.0 for monitoring
Dual 
SD card slots for non-stop recording
Reference output with built in sync generator allowing for daisy chaining and synchronising multiple
 decks together
Playback 4:4:4:4 RGBA ProRes files to separate fill and key outputs when working in HD formats
Industry standard RS-422 deck control
Built-in power supply
Ethernet with PoE+ for control and remote uploading media via FTP
---


---
The HyperDeck Studio Mini can be controlled by BlackMagic ATEM switchers, making it the perfect media player for running clips, animations and stingers. You can also mount the ATEM Television Studio HD and HyperDeck Studio Mini into a space saving single rack unit to create a live production studio and mastering recorder setup.
Blackmagic Design HyperDeck Studio Mini HYPERD/STM Editing, Digital Non Linear Video Converters Broadcast Format converters black magic videosMiniaturized broadcast deck with unlimited duration recording using dual SD card and UHS-II card recorders in all SD, HD and Ultra HD formats up to 2160p30.
---
Blackmagic Web Presenter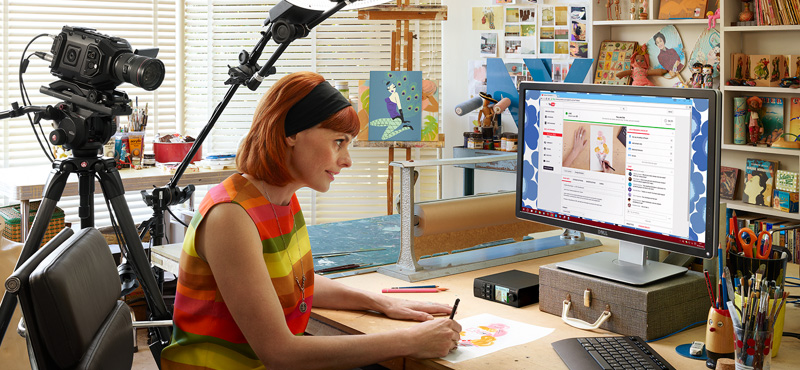 "The Blackmagic Web Presenter makes any SDI or HDMI video source appear as a USB webcam for higher quality web streaming using software such as Skype or streaming platforms such as YouTube Live, Facebook Live, Twitch.tv, Periscope and more."

Blackmagic Web Presenter allows you to use open source software tools such as Open Broadcaster and XSplit Broadcaster to open up global live streams from any location on any platform including, Windows, Mac, Linux and Chromebook.
The Web Presenter can also make broadcast quality Skype calls, perfect for conducting live interviews from any location, even with a poor
 internet connection.
---

---
The Blackmagic Web Presenter features 12G-SDI and HDMI inputs, supporting all SD, HD & Ultra HD input video formats up to 2160p60 which is then down-converted to 720p HD for streaming. Using 720p for streaming provides great quality HD in 16:9 format while using the lowest possible data rate.
Low bandwidth? No problem! Web Presenter will automatically lower the frame rate for you if your software requests it.
Add the optional Teranex Mini Smart Panel to get full controls and LCD display with video preview, audio meters, video formats and the current USB frame rate.
Blackmagic Design Web Presenter BDLKWEBPTR Editing, Digital Non Linear Video Converters Broadcast Format converters black magic videosNow you can make any professional SDI and HDMI video source appear as a 720p HD USB webcam for streaming high quality video to millions of viewers over the internet.
---