The first thing you'll notice about the new Ronin-SC 3-axis gimbal stabilizer is its size, or, more precisely, the lack of it. The C in its name stands for "compact," and it's super-light, too, weighing in at just 1.1kg. But these aren't limitations. These are its strengths, because this new gimbal is designed specifically for lightweight mirrorless cameras, and for many of today's photographers, it's the piece of gear they've been waiting for. The existing Ronin-S is perfectly capable of accommodating mirrorless models, too, but this new stabilizer is simply better proportioned for the task at hand.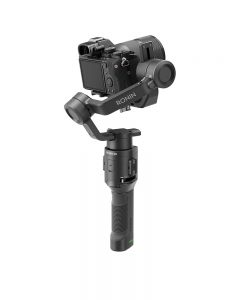 The new Ronin-SC can handle payloads of up to 2kg and can easily be maneuvered single-handedly, achieving the same perfectly stable, super-smooth image capture videographers have come to expect from DJI's larger and more expensive offerings. The shutter and focus controls are similarly intuitive and user-friendly. And of course, you also get the Ronin's signature framework build, which elevates the payload above the roll axis to keep camera's built-in display advantageously free of unwanted obstruction and needless clutter.
Brand new to the Ronin-SC is a feature called Force Mobile, which lets you control the gimbal with your smartphone from distances of more than 80 feet away. You can also mount a smartphone to the camera's hot shoe and use the DJI app to track a subject and keep it in frame. This powerful little stabilizer comes in a carrying case that's 40% smaller and lighter than the one for the bigger, heavier Ronin-S. It's a welcome addition to DJI's lineup and a lighter load for mirrorless photographers in more ways than one.
---
With a lightweight design and superior stabilization, Ronin-SC is a 3-axis stabilizer for mirrorless cameras, allowing users to create professional footage with ease.
---
Key Features
2kg maximum load capacity
22×20×7.5 cm dimensions
1kg weight
360° pan-axis control
-95° to +220° tilt-axis control
-202.5° to +112.5° roll-axis control
11-hour battery life