The new Gudsen MOZA Air 2 is a heavy lift handheld gimbal with an impressive payload capacity of up to 4.2kg (9.2lbs) and a host of other updated features.
---
---
Hardware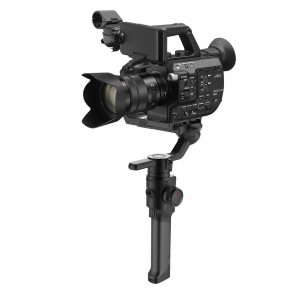 Thanks to its newly optimized high torque motors and next generation Field Oriented Control (FOC) technology the Air 2 can handle most DSLRs, mirrorless cameras and pocket cinema cameras such as the Sony FS5.
The Air 2 is powered by the MOZA Spark Power Supply System which draws its power from four high-rate Li-Ion rechargeable batteries and thanks to a new Battery Management System (BMS) provides a maximum run time of 16 hours, about 4 hours more than the original Moza Air.
The MOZA Spark Power Supply System also controls the external four power ports, one input port and three output ports.
The input port allows for alternative ways to directly power the gimbal and the output ports can be used to power the camera and other accessories such as follow focus, LED Lights and external monitors.
Features
The Air 2 features 3-Axis stabilization, 8 follow modes, AI auto-tuning using the MOZA App and improved Smart Time-Lapse mode.
The improved Smart Time-Lapse mode provides up to 20 optimizations including motion-lapse, tracking time-lapse and zoom time-lapse.
The 8 Follow modes make use of the 3-Axis stabilization and include some cool shooting modes including Inception Mode, FPV Mode, Sport Gear Mode as well as Panorama and Tracking.
Adding the optional iFOCUS Intelligent Wireless Lens Control System to the Air 2 gives you a 4th-Axis of control by providing both auto focus shifting and auto zoom capabilities.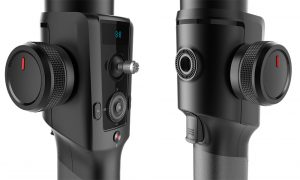 Balancing is made easier thanks to visually identifiable balancing information and a mechanical memory quick release system which allows you to move the camera around different fixtures without re-balancing.
There are 12 physical buttons that give you control over settings including recording, zoom, focus, ISO, shutter, aperture, exposure compensation and white balance in addition to control over gimbal operation.
The Air 2 also allows you to save up to five custom presets to use with the Joystick, smart wheel and smart trigger.
Finally, the Air 2 is designed with expansion in mind allowing it to be connected to a tripod, slider, jib, crane or anything else compatible with a 1/4″ connector.
---
Empowered by the newly optimized high torque motors and the new generation FOC technology, MOZA Air 2 is capable of handling most DSLRs, mirrorless cameras and pocket cinema cameras, weighing up to 4.2 kg (9 lbs).
---