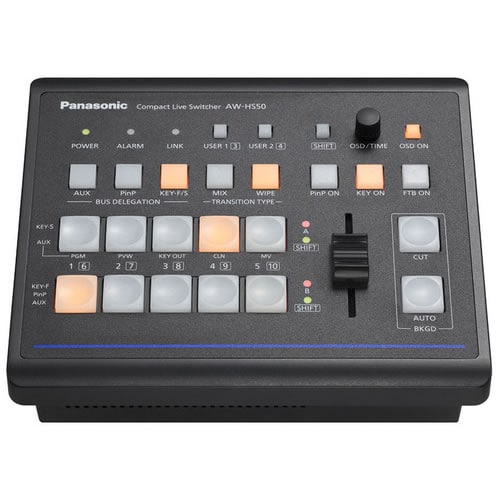 It's amazing how Panasonic was able to fit so much in a 6 x 8" package. But by doing so, the AW-HS50 HD/SD Live Switcher reduces not just size and weight – but cost! In fact, its small, compact size makes the HS50 ideal for mobile production, AV facilities, event video and more.
Don't let its diminutive size fool. This puppy is packed with features. The HS50's built-in MultiViewer allows users to view four, nine, or 10 images on a single display. And can even be used to provide a multi-image large-screen presentation. Other advanced functions include dedicated hardware for picture-in-picture (PinP) with dissolve transitions, switchable up-conversion, colour correction, a chroma/linear keyer plus a downstream keyer (DSK), auto or manual video transitions, wipe and PinP preset memories, and frame memories.
And here's something new from Panasonic – the HS50 offers an IP link to the new AW-RP50 remote camera controller. This link enables remote switching. The AW-HS50 has built-in switchable 10-bit frame synchronizers on each input, ensuring reliable, glitch-free switching even with non-synchronous sources such as remote camera feeds, small camcorders, and computer graphics.
No doubt, this Panasonic Switcher will get a lot of video production companies thinking about switching gear.