The Teris JQ40 Carbon Fibre Mini Jib is a lightweight, extremely portable extendable arm that can be set-up and ready to go in minutes.
The JQ40 Mini Jib is designed to be used handheld, or mounted to a tripod/fluid head combination as shown in the lead image.
With a folded length of only 131cm (4.3ft), and 2.5kg (5.5lbs) weight, it's small enough and light enough to be easily transported just about anywhere you need to take it.
---
---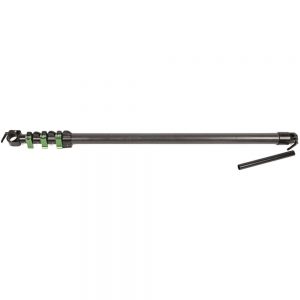 When set up, the telescopic arm extends out to a maximum of 4m (14ft) giving you more than enough reach to get the shots you need.
Load capacity is also pretty impressive with the JQ40 being able to handle payloads of up to 7kg (15.4lbs).
The JQ40 Mini Jib is available for purchase on its own, as well as kits packaged with a tripod and Fluid Head and Controller for the DJI Ronin-S or Zhiyun Crane 2 handheld gimbal stabilizers.
Key Features
The column counterweight increases stability and reduces the occurrence of accidents
The four-telescopic structure allows for a shorter transport length, making it easier and more convenient to carry
CNC processing aluminum alloy parts ensure secure locking and sturdy performance
DJI Ronin S / Zhiyun Crane 2 Compatibility
7 kg (15.4 lbs) Max. Load Capacity
400 cm (157.4″) Length
+87° / -66° Tilt Range
2.5 kg (5.5 lbs) Weight
Carbon Fiber Material Construction