The newly announced Viltrox E-T10 is a manual focus lens mount adapter that will finally allow Z CAM E2 "flagship" (E2-M4, E2-S6, E2-F6, E2-F8) series camera owners to mount and use E-Mount lenses with their cameras.
Viltrox E-T10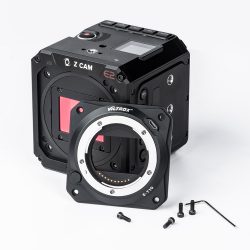 The E-T10 boasts an all metal construction and easily attaches to the camera using the 4 hexagonal bayonet screws that already hold the camera's existing mounting plate.
Once mounted, the E-T10 adds compatibility for over 30 different (see list below) prime and zoom E-Mount lens offerings from Sony, Tamron, Sigma and Viltrox.
The electronic contacts/pins located on inside of the mounting ring support 4K recording and shooting and electronic aperture control as well as transmission of EXIF information, including Aperture, Shutter and ISO.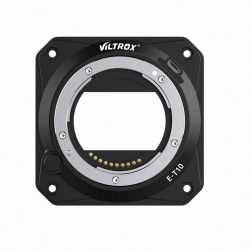 The front of the mounting plate also features a micro-USB port that is used to update the E-T10's firmware when needed.
The Viltrox Manual Focus Lens Mount Adapter for E-Mount Lenses to Z CAM Cameras is now available to order through Vistek Canada.
---
Compatible Lenses (at time of release)
[columns]
[column size="1/2″]
Sony Prime
FE 24mm f1.4 GM
FE 35mm f1.4 ZA
FE 35mm f1.8
FE 35mm f2.8 ZA
FE 50mm f1.8
FE 50mm f1.4 ZA
FE 55mm f1.8 ZA
FE 85mm f1.4 GM
FE 85mm f1.8
FE 100mm f2.8 STF GM OSS
FE 135mm f1.9 GM
[/column]
[column size="1/2″]
Sony Zoom Lens
E 16-70mm f4 ZA OSS
E 18-55mm f3.5-5.6 OSS
E PZ 18-105mm f4 G OSS
FE 12-24mm f4 G
FE 16-35mm f4 ZA OSS
FE 16-35mm f2.8 GM
FE 24-70mm f4 ZA OSS
FE 24-70mm f2.8 GM
FE 24-105mm f4 G OSS
FE PZ 28-135mm f4 G OSS
FE 100-400mm f4.5-5.6 GM OSS
FE 70-200mm f2.8 GM OSS
FE 70-300mm f4.5-5.6 G OSS
[/column]
[/columns]
[columns]
[column size="1/2″]
Tamron E-Mount
28-75mm f/2.8 Di III RXD A036
28-200mm f/2.8-5.6 Di III RXD
70-180mm f/2.8 Di III VXD A056
[/column]
[column size="1/2″]
Sigma E-Mount
A 35mm f1.4 DG
A 50mm f1.4 DG
A 85mm f1.4 DG
A 24-70mm f2.8 DG DN
[/column]
[/columns]