Hot on the heels of the recent announcement of the new Crane 3 S Series gimbals from Zhiyun is their new announcement of upgraded firmware for the original Zhiyun Crane 3-LAB which enhances its core functionality.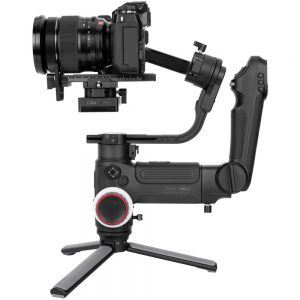 As you are likely aware the Crane 3-LAB was the perfect gimbal for larger payloads and for cameras that were just to large or difficult the balance on other gimbals especially setups for the Blackmagic Pocket Cinema 4K/6k and the ZCam E2 and E2 Flagship Series cameras.
The new Firmware adds camera control within  the Zhiyun APP as well as a number of bug fixes and stability improvements.
This new Firmware makes the Zhiyun Crane 3-LAB a great option for those users who do not require the even larger camera payload capabilities of the new Crane 3 S. FYI The Crane 3 S will likely not begin shipping in Canada until the end of April or May.
The firmware update is available via the Zhiyun ZYPlay APP you can watch a short video below.
---
How to Update the Zhiyun Crane 3 LAB Firmware
Video Description – In this video, we'll show you how to perform the firmware update of the Zhiyun Crane 3-LAB gimbal step by step. Need help? Contact us via Facebook Messenger by clicking on this link: http://bit.ly/2Pkjmxo or send an email to service@zhiyun-tech.com or support@zhiyun-tech.com
---
Firmware Version 1.90 New and Improved Features
Support camera control over Z Cam camera systems
Support camera control over BMPCC camera system
Fixed some other known issues with improved system stability
Fixed the malfunctioning focus/zoom control wheel/rocker when using the zoom/focus motor after updating the firmware
Added inclined angle compensation on Y-Axis for reduced angle deviation and better stability
Fixed angle deviation and better stability when using the joystick to control Y-Axis under F mode
The Zhiyun Crane 3-LAB is available in stock now at Vistek
CRANE 3 LAB is Zhiyun's new generation flagship stabilizer that integrates wireless Full HD Image Transmission technology. Targeting towards videographers and videographer teams, the CRANE 3 LAB redefines the structure of traditional stabilizers with its effort-saving Sling Mode. The 1080P image transmission system of this stabilizer allows users to frame and to take shots from any angle at any time.