Launched with the tagline, "Live | Create | Anywhere", the new Zhiyun Crane M2 is a compact 3-Axis stabilizer that is designed to work seamlessly across multiple device types including, smartphones, action cameras, compact cameras and lighter mirrorless cameras.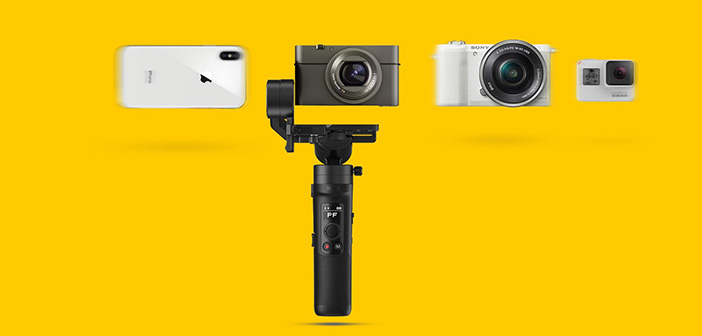 The Zhiyun Crane M2 was designed to be as versatile as possible and is aimed at travelling filmmakers and vloggers. It's compact size means that it can fit easily in an overhead bag or backpack.
It features an up to 7 hour runtime, "enhanced camera control", Bluetooth and WiFi control and an OLED display similar to the one found on the previous Crane 2 model that displays the active gimbal mode, Bluetooth & WiFi connection status, battery life and various other gimbal parameters.
---
To make every one a true filmmaker of their daily lives, ZHIYUN brings a new handheld stabilizer designed for multiple devices for users of all levels.

Featuring a more easy-to-use quick setup system and smart lock design, as well as six creative operation modes, CRANE-M2 easily goes wherever you go and offers endless possibilities to your everyday creation.
---
Payload capacity runs from 130-720g which means at the top end, it should be able to handle a small mirrorless camera such as a Sony a6400 with a small lightweight lens attached.
As with Zhiyun's other gimbals, the M2 can also charge your devices and if you find you run out of juice, you can connect a power bank to the handle to allow you to keep filming until you can find somewhere to plug in to charge.
The M2 also features a brand new quick-release system that was designed to allow users to quickly mount or dismount the camera with a single press of the lock button.
Expanded Functionality
By using one of the two 1/4″ threaded mounting points (one of the bottom of the handle and one on the side) you can add a variety of accessories such as microphones, lights, monitoring equipment, etc as needed.
---
Crane M2 Firmware Update V2.00(m0_2.00)
Compatible with Sony RX100M7, RX0M2; Canon G7 X Mark III (in firmware update v1.99)
Compatible with Sony Camera Smart Remote Control and Smart Remote Embedded (in firmware update v1.99)
Fixed the Canon M50 connection issue under certain circumstances (in firmware update v2.00)
Fix some other issues (in firmware update v1.99)
---
Modes
In terms of functionality, the M2 includes many of the shooting modes found on Zhiyun's other handheld gimbals including:
Pan Following (PF) Mode: The camera pans as you turn the gimbal left and right. One of the favourites for travellers. A must-have for hyperlapse
Following (F) Mode: The camera will follow the handle movements. Shoot everywhere as you like
Locking (L) Mode: The camera direction is locked so you won't miss a shot in any situation
Full-Range POV Mode: Allows 360°synchronous movement on all three axes
Vortex Mode: Gives you the freedom to make 360°barrel shots in all dimensions
Go Mode: Capture every fast movement without missing a single beat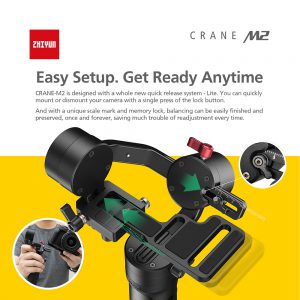 Balancing
Balancing the M2 is also made easier by using the scale mark and memory lock system located on the gimbal arm and base. Once you have everything balanced, make a note of the positions and you'll be good to go whenever you use the same device.
There is also a Smart Lock feature that uses a locking pin and latch to hold the gimbal arms in place when travelling or for storage.
Device Control
The WiFi and Bluetooth control module allows you to control your camera via the gimbal handle. Pairing your compatible device with the M2 is accomplished via the ZY Play app and once your device is paired, it will automatically pair again when you turn on the gimbal.
Once paired, the zoom in/out slider on the side of the handle controls the zoom features on your camera allowing you to capture footage from a distance without having to physically move in closer to the action.
ZY Play App
The ZY Play app provides not only remote camera and gimbal control, it also allows you to access advanced features such as timelapse, panorama and slow motion as well as sharing your videos.