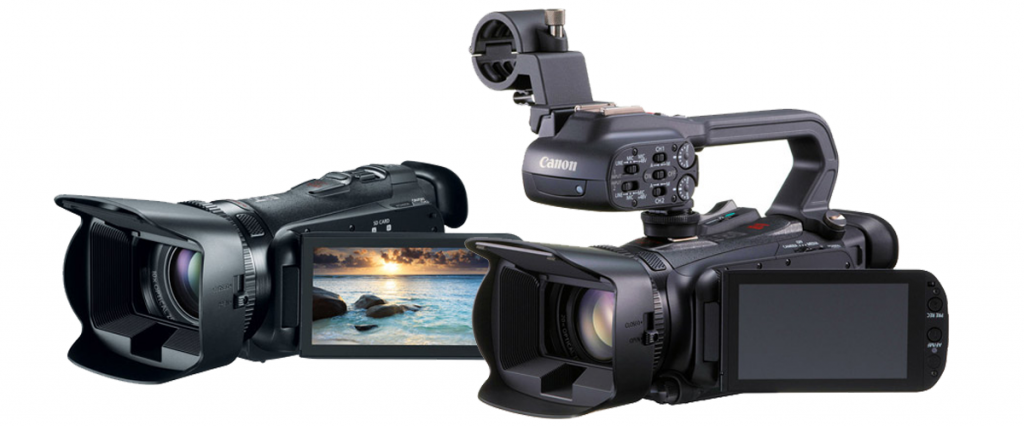 Pro video deals aplenty today! Here are just a few of Vistek's best video cameras, plus the lighting to top it all off.
Canon XA20 AVCHD Camcorder Kit
The XA20 is a compact, "run-and-gun" HD camcorder with an impressive optical performance from a powerful new Genuine Canon 20x HD Video Lens with a new 8-Blade Circular Aperture, capable of focusing down to just 23.6 inches (60cm). Other features include a 3.5-inch OLED Touch Panel Display with the equivalent of 1.23 million dots of resolution, tiltable electronic viewfinder, multiple HD/SD recording rates – including 24p for a "cinematic" look – together with a choice of industry-standard MP4 (up to 35 Mbps) and AVCHD (up to 28 Mbps) codecs. The high image quality and recording versatility make the XA20 ideal for independent and documentary filmmaking, as well as event videography and educational institutions.
Canon XA20 AVCHD Camcorder Kit
Genuine Canon 10x HD Video Lens (35mm equivalent: 30.4mm – 304mm) with 8-Blade Iris delivers exceptional image quality with smooth backgrounds for professional-looking results.
Canon HD CMOS Pro Image Sensor is a professional-level 1/3-inch native 1920 x 1080 image sensor which delivers outstanding video resolution, improved low-light performance*, and a wide dynamic range.
Record up to 12 hours of crisp high-definition video to a 32GB internal flash drive or directly to 2 memory card slots (SDHC/SDXC compatible); Relay Recording automatically switches video recording to the memory card when the internal drive becomes full.
Dynamic SuperRange Optical Image Stabilization corrects a full range of motion and Intelligent IS automatically chooses from four different modes to optimize image stabilization for the shooting condition.
3.5-inch Touch Panel LCD offers fast and easy control right at your fingertips plus an Electronic Viewfinder.
Smart AUTO makes shooting great videos easy by intelligently selecting the best settings from 38 predefined situations, including Auto Tele Macro that provides spectacular close-ups and the dramatic look of a video shot with shallow depth-of-field.
Professional Shooting Assist Functions, normally only available to professional videographers, allow you to obtain an exceptional level of control.
Cinema-Look Filter offers nine different built-in filters to create video with a variety of professional cinematic looks and Touch Decoration allows you to superimpose and record a variety of fun and exciting images for a creative flair.
Audio Scene Select enables easy operation and setup for outstanding audio that complements the pristine image quality.
And in case you thought we were just about cameras, think again! We've also got amazing deals on LED lighting for your video production.
LED Go G-1200 LED Video Light With Carrying Bag And Light Stand
This high-output, 1200-LED video light provides stable colour temperature at 5600K, outstanding heat dissipation, and a long service life. The CN-1200H employs spotlight LEDs which provide an illumination distance of more than 5 metres, making it suitable for long-distance shooting.
An included diffuser will allow you to freely switch from a spotlight effect to a floodlight effect. The video light assembles quickly and easily and is extremely portable.
Key Features
High output
Stable colour temperature
Long service life
Outstanding heat dissipation
Uses spotlight LED bulbs which provide an illumination distance of more than 5M
Included diffuser and filters
Connects with 110V~230V power through an AC power adapter
Get the LED Go G-1200 LED Video Light Here
Nanguang N-Lux1500 LED On Camera Light w/Sony Type F550 Battery Battery
Charger, Hot shoe adapter
Features
Adopts an advanced digital driving circuit design with an internal independent dimmer driving circuit. This ensures stable LED current in a range of different voltages. Prolong the service life of LED, low consumption of driving circuit efficiency.
Dimmer part adopts PWM dimmer technology which is more accurate when adjusting the brightness.
Comes with different filters, to fulfill different shooting requirements.
Can be connected together with the same series of product for easy and flexible operation.