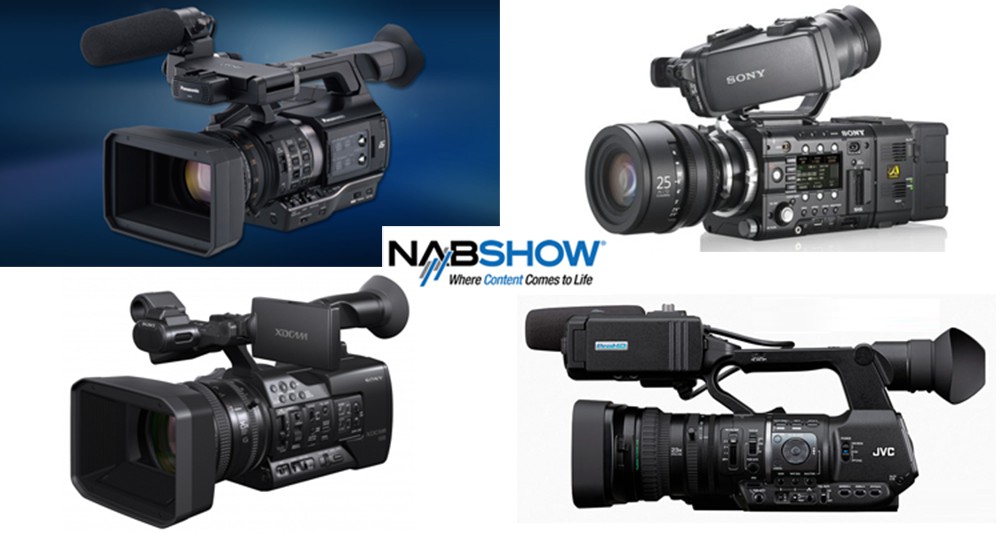 NAB has come and gone and while we were there to deliver news on some of the great new tech you'll be seeing over the coming months, there was way, way more stuff. With that in mind, here are 4 more products from Sony, JVC and Panasonic that are sure to make a huge splash with any level of video professional.

Panasonic AJ-PX270
The first handheld camera recorder to feature the AVC-ULTRA codec family, microP2 cards and wireless LAN connection
The AJ-PX270 is the first P2HD handheld camera recorder with AVC-ULTRA recording and built-in microP2 card slots. In addition to the established AVC-Intra100, the AJ-PX270 has AVC-LongG for extended recording and the optional AVC-Intra200*2 codec for master level recording offering a wide range of choice. This handheld camera features two built-in microP2 card slots with simultaneous recording functionality, a newly designed multipurpose compact zoom lens and wireless workflow options.
The AJ-PX270 covers both low-bit rate and high-bit rate recording thanks to its inherent support of the AVC-ULTRA codec family. The AVC-LongG25 enables extended 1920 x 1080 10 bit 4:2:2 broadcast-quality recording (four times longer than AVC-Intra100). The AJ-PX270 also supports DV, DVCPRO, DVCPRO50 as standard for SD recording and DVCPRO HD, AVC-Intra 50, AVC-Intra 100 along with the new AVC-LongG6, G12, G25 and G50 as standard for HD recoding. For even higher quality recording, the AJ-PX270 supports the visually lossless AVC-Intra 200 codec, as an option for master quality all in one compact handheld camera.
AVC-Intra100/50 + AVC-LongG50/25 (standard)
High quality 10bit/4:2:2 recording video recording at 50Mbps or 25Mbps
New compact / lightweight 22x lens (f=28mm-616mm/35mm)
Network workflow connectivity with LAN connection as standard
Dual microP2 card slots for cost efficient microP2 cards
Ultimate Cost Effective Operation
Two microP2 card slots enable cost-effective operation. With the same reliability as the P2 card, the microP2 cards can be used without an adapter for either relay recording, when one card is full the AJ-PX270 seamlessly switches to the second card to continue recording; or simultaneous recording, where the same codec is recorded on to both cards at the same time for backup use. The microP2 slots can be used with standard SD cards for even greater efficiency when recording*6 codec's with 50Mbps or less. A single P2 slot is also provided for integration with existing P2 workflows.
Wide Connectivity Functions for Easy Sharing in the Field
Camera connectivity is becoming increasingly important as the need for an ever faster workflow grows. The AJ-PX270 features a wired and wireless LAN (via an optional, AG-WM30 Wireless dongle) that supports the existing Panasonic network functions such as remote proxy viewing, metadata viewing and amendment, and live uplink*4 and playlist*4 solutions. Further expansion of the AJ-PX270 network workflow is planned, which will include connection over a mobile 3G/4G/LTE network. Thanks to these network features, users of the AJ-PX270 can easily uplink low-bit rate proxy*3 data and full quality broadcast content. The handheld camera's network function makes the production workflow more efficient and accelerates the broadcast workflow from shooting to on-air.
Sony PMW-X180

Full HD XAVC Intra and XAVC Long GOP recordings and MPEG HD 422 50 Mbps offer budget savings and workflow flexibility for broadcast and professional applications
The PXW-X180 three 1/3-inch type Exmor™ CMOS sensors camcorder records Full HD XAVC Intra and XAVC Long GOP, as well as MPEG HD 422 50 Mbps, MPEG HD 420 35 Mbps, AVCHD and DV, making it ideal for a wide range of applications from education/videography to news and broadcast production. As the successor to the HVR-Z7E, HXR-NX5E and PMW-150, the PXW-X180 has a lot of attractive features, including dual SxS memory card slots, proxy recording on SD card, a G Series fixed 25x HD zoom lens with 26mm wide angle and variable ND filter, that provides four conventional mechanical 4 ND filter positions or a linear switch dial for more control in changing light conditions. The camcorder also has wireless functions and NFC (Near Field Communication) capabilities.
Three 1/3-inch type Exmor™ CMOS Full HD sensors 
High resolution, high sensitivity, low noise, and wide dynamic range for enhanced shooting under severe lighting conditions and more creative freedom.
G Series fixed 25x professional HD zoom lens 
26mm wide angle zoom with three independent rings with end-stop and large focal length.
High quality XAVC Intra and XAVC Long GOP recordings on SxS memory cards
Supports XAVC Intra and Long GOP codecs, as well as MPEG HD 422 50 Mbps, the widely-accepted broadcast standard compliant with the latest EBU recommendations. The PXW-X180 also records in MPEG HD 420 35 Mbps, AVCHD and DV, offering flexibility and budget savings on recording media.
Dual ND filter control mechanism for more flexibility
The PXW-X180 is equipped with a variable ND Filter function. Users can chose either four conventional mechanical ND filter positions or the linear control dial, allowing you to quickly and smoothly adapt to different conditions of shooting.
Wi-Fi/NFC 
Offers remote control via a smartphone or tablet computer using a Wi-Fi connection, and recorded video files can be transferred from the camcorder to smartphone in MP4 format.* One-touch authentication is also possible with smartphones that offer NFC connectivity.
Sony PMWF55
CineAlta 4K PMW Series HD Camcorder.
The PMW-F55's Sony 4K image sensor captures a true 4K 4096 x 2160 DCI-standard cinema image. Its 4K CMOS sensor features 11.6 megapixels (total) and 8.9 megapixels (effective). The "Frame Image Scan" technology used by F55 sensor eliminates flash band and image artifacts common to conventional CMOS sensors. This sensor captures with an impressive 14 stops of exposure latitude with excellent sensitivity and low noise. The F55 image sensor is also equipped with the same advanced color filter array technology used in Sony's flagship F65, which delivers color gamut that's wider than 35mm motion picture print film.
The F55 CineAlta camera provides the choice recording of three formats to SxS cards: MPEG-2, 50Mbps HD422 plus two 10-bit mastering formats: XAVC at HD, 2K & 4K resolution, plus SR Codec (HDCAM SR) at 440Mbps or 220Mbps. 16-bit Linear 2K/4K RAW recording to the optional AXS-R5 recorder preserves the greatest latitude for color correction and other post processes. Sony's 16-bit recording captures 16x more tonal values than 12 bit RAW. Thus it's the ideal acquisition format for the 16-bit linear Academy Color Encoding System (ACES) workflow.
The F55 features high frame-rate on-board XAVC HD and 4K recordings up to 60 fps, plus a free planned upgrade to XAVC, QFHD up to 60 fps in addition to XAVC 2K/HD up to180 fps. It also offers 240 fps 2K RAW with the optional AXS-R5 outboard recorder and a planned upgrade, achieving the highest frame rates most productions will need, while retaining exceptional, 16-bit image quality.
Simultaneous RAW and onboard camera SxS recording provides a coordinated "off-line, on-line" workflow with simultaneous recording to internal SxS cards and the optional AXS-R5 RAW recorder. For seamless conforming in post, you get matching time code, start frame, stop frame, and file names.
The F55 is equipped with Sony's large diameter, robust, FZ-mount which is compatible with virtually all 35mm DSLR, and Cine lenses with simple inexpensive lens adapters. It ships with a PL-mount compatible with Cooke/i and Arri LDS.
The F5/F55 excellent camera ergonomics enable comfortably shooting for long periods of time. The camera head, viewfinder and shoulder mount can be adjusted to fit any shooter and optimized for different lens configurations. Their clean, flexible architecture enables shooting in many configurations.
JVC GY-HM650 Firmware Update
JVC have announced a firmware upgrade that adds Zixi advanced streaming capabilities to its GY-HM650 mobile news camera. The 3.0 upgrade also adds the Extreme High Quality (XHQ) mode, which offers virtually lossless 50 Mbps H.264 recording to the GY-HM650 and GY-HM600.
Equipped with JVC's exclusive dual codec design, the GY-HM650 allows live transmission or secure FTP file transfers when equipped with a 3G/4G modem (or hotspot) or Wi-Fi adapter. It supports live HD video streaming at web-friendly resolutions at various bit rates while simultaneously recording a full HD file to an SDHC or SDXC media card.
Using Zixi's new Advanced Streaming Technology (AST), the GY-HM650 3.0 provides content-aware error correction and bandwidth shaping. It features JVC's 'Streamconfidence' feature, providing real-time feedback of signal and streaming status. With bit-rates as low as 256 kbps and up to 3 Mbps, Zixi proprietary algorithms maximize bandwidth to ensure reliable transmission even under difficult conditions, while advanced content aware error correction compensates for up to 30 percent packet loss.
With the upgrade, the camera is also compatible with JVC's Professional Streaming Services, including the new ProHD Broadcaster server powered by Zixi that provides reliable live content delivery to a variety of hardware decoders, CDNs, and the web. Other upgrades include large file size support with SDXC media cards and .MOV clip import capability for Mac OSX. Improved file transfers use RTSP/RTP protocol and can be controlled through a standard web browser.
"The virtually lossless 50Mbps XHQ 60p recording mode is commonly found in DSLRs, and we're pleased to add it to our 600 Series cameras," said Gustav Emrich, European product manager. "The Advanced Streaming Technology upgrade to the GY-HM650 is very valuable because it makes the camera compatible with our new ProHD Broadcaster server powered by Zixi, which will help news organisations manage and distribute live signals from their JVC cameras in the field."