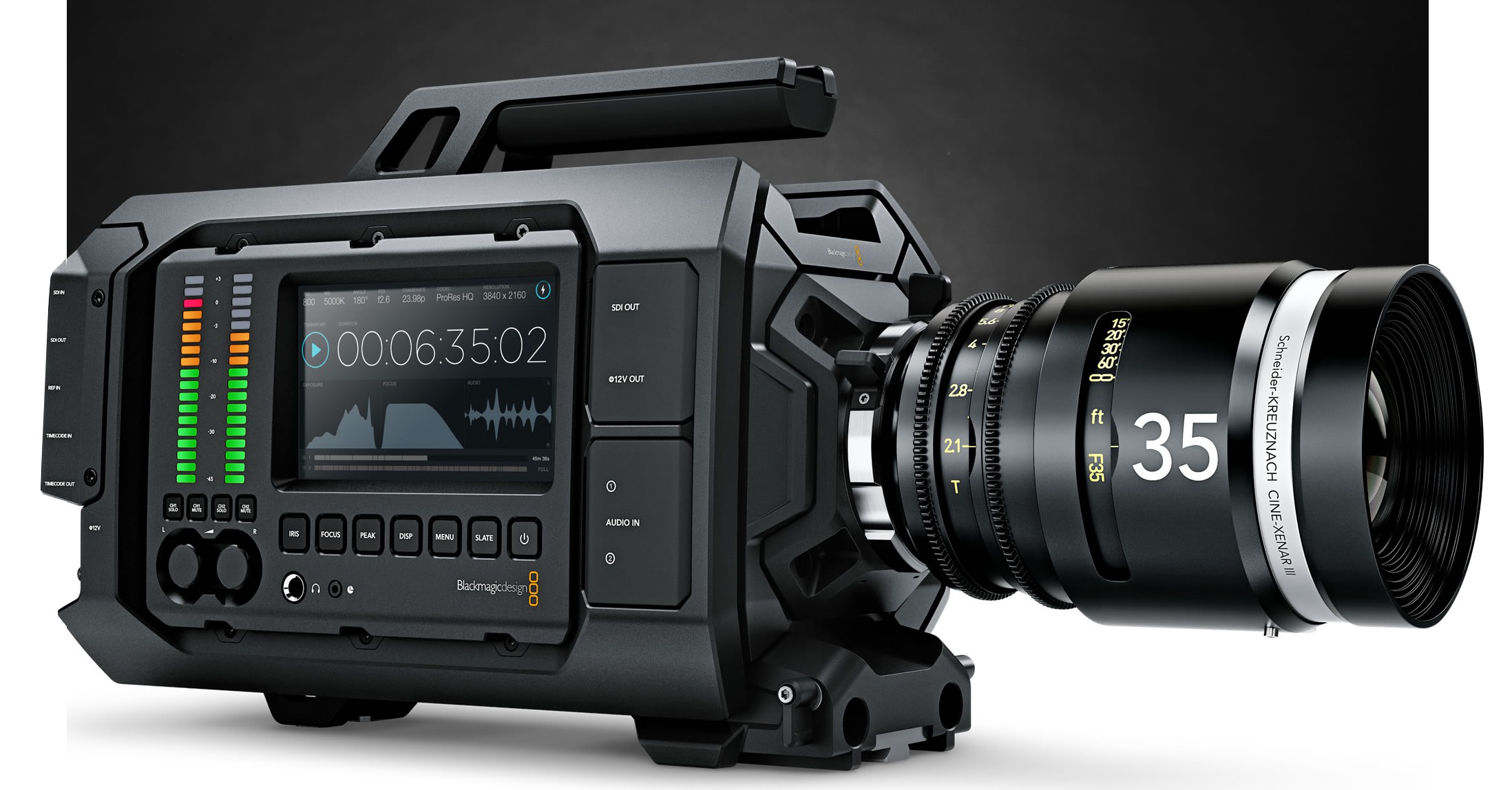 Blackmagic Design today announced Blackmagic URSA, a new high end digital film camera designed to revolutionize workflow on set. Built to handle the ergonomics of large film crews as well as single person use, URSA has multiple accessories built in, including a massive 10 inch fold out on set monitor, large user upgradable Super 35 global shutter 4K image sensor and internal dual RAW and Apple ProRes recorders.
Blackmagic URSA is designed to be used on high end feature films, commercials, episodic television production, documentaries, electronic news gathering, music videos and more. When used on jobs with a large crew, customers can easily dress the camera with high quality cinema lenses, rails, follow focus, matte boxes and more. With built in scopes for exposure, focus and audio levels, built in dual recorders and the large 10 inch fold out on set monitor, customers can dramatically reduce on set equipment because it's all built into the camera.
The Blackmagic URSA features a larger professional size that has the space for powerful cooling that allows higher frame rates while keeping the chassis cool and the fan quiet. The sleek futuristic machined aluminum design is incredibly strong and has been designed for large film crews while being able to be field upgraded to new sensors by the user. Each area of the camera has been divided into separate DOP, camera assistant and audio engineer work stations. The DOP station features a large 10 inch fold out on set monitor and separate 5 inch screen for settings, camera status and scopes. The camera assist station features a separate screen for camera settings, status and scopes and an audio station features audio meters, controls and audio connections.
Black Magic URSA at a Glance:
Large high resolution 4K Super 35 mm sized sensor with superior handing of image detail.
Professional global shutter for smooth pans and image motion.
Wide 12 stops of dynamic range allows capture of increased details for feature film look.
Compatible with extremely high quality PL or EF mount lenses.
User upgradable design allows customers to upgrade and change the sensor and lens mount.
Built in dual CFast 2.0 card recorders allow unlimited duration recording in high quality.
Open file formats compatible with popular NLE software, such as Apple ProRes and compressed CinemaDNG 12 bit RAW. No custom file formats.
Support for ProRes HQ, ProRes 422, ProRes LT, ProRes Proxy recording at resolutions up to Ultra HD.
Features all standard connections, including dual XLR mic/line audio inputs with phantom power, 6G-SDI output for monitoring with camera status graphic overlay and separate XLR 4 pin power output for viewfinder power, 6G-SDI monitoring input, headphone jack, LANC remote control and standard 4 pin 12V DC power connection.
Built in stereo microphones for recording sound.
3 separate built in LCD monitors for camera settings and metadata entry. Large 10 inch screen folds out for full resolution HD monitoring with wide viewing angle and high brightness.
Supports Ultra HD and 1080 HD resolution capture in 23.98, 24, 25, 29.97, 30 up to 60 fps.
Features liquid cooling system allowing higher frame rates when future sensors support this feature.
Supports quick release tripod mounts and adding V-Mount and Anton/Bauer mount battery plates.
Includes full copy of DaVinci Resolve software color grading and editing software.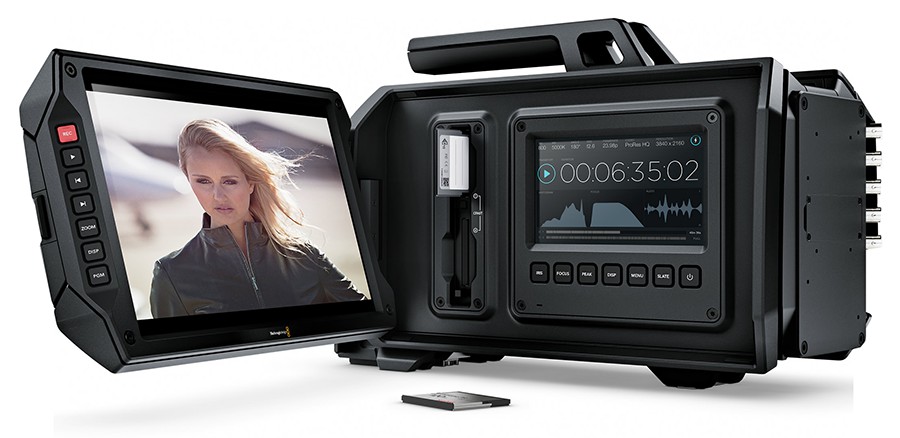 Stay tuned for pricing and availability!