Every once in awhile, a product is introduced that is sure to make some waves in the industry, and we predict that the newly announced Roland V-1HD Video Switcher is going to make some big ones, really, really big ones.

Roland Canada Sales Manager John Devries, gave us an exclusive sneak peak of the V-1HD at ProFusion Expo last week, and we were seriously impressed.
The first thing that struck us, was it's size as it easily fits in your hands as shown below. At just 12 inches wide, 4 inches deep and 2 inches high, it is ultra portable and could easily fit in a backpack, or other small bag.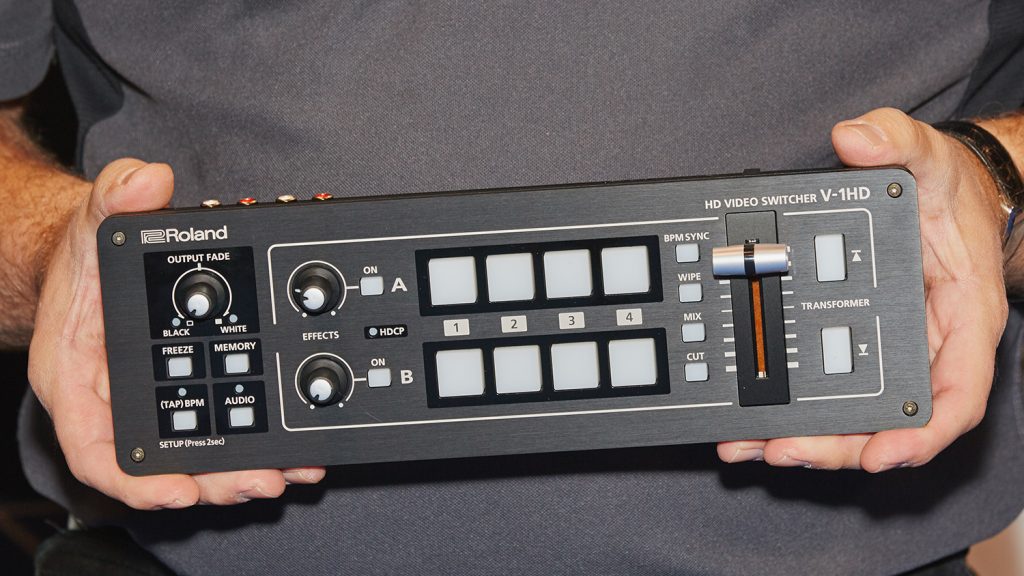 But don't let it's size fool you, the V-1HD is jam packed with features and enough HDMI ports to connect just about any device that you can think of:
4 HDMI inputs supporting:

HD Cameras
Action Cameras
PC's
Smart Phones
Blu-ray Disc Players
and more…

The V-1HD offers 1080p/1080i/720p video resolutions, progressive and interlace signals allowing for both 1080p & 1080i to be used simultaneously and HDCP meaning copy protected content from Blu-ray disc players is also supported.
2 HDMI outputs supporting:

Preview
Projection
Recording
Webcast
and more…
[columns]
[column size="1/2″]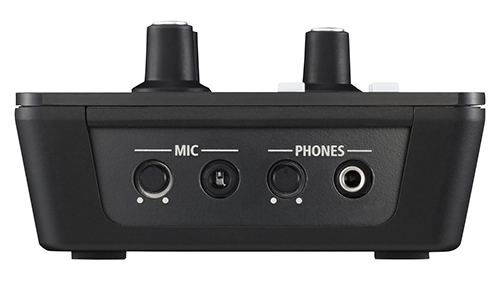 [/column]
[column size="1/2″]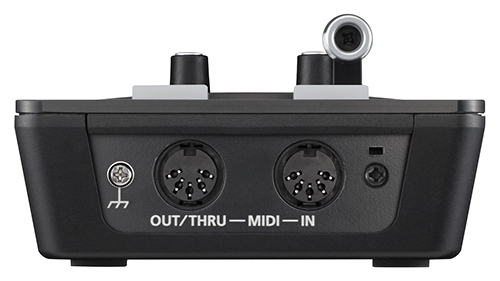 [/column]
[/columns]
Audio
It also features a full 12ch audio mixer, with 4 stereo audio inputs via the HDMI ports, and a stereo line input and mic level input. Each channel is equipped with a delay function (max 500ms) to synchronize the video & audio.
Operations
Basic operations are controlled by the buttons and the T-fader on the top of the unit and the more detailed settings can be controlled by connecting a monitor to the preview connector.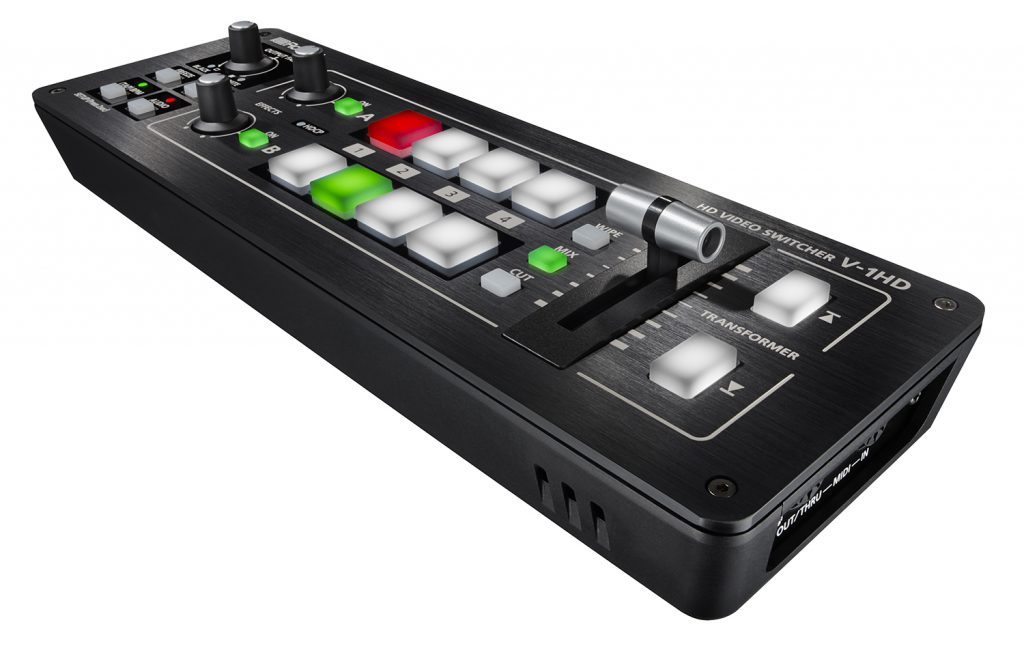 Large Backlit buttons

Red indicate current output source
Green is for video that be output on the next session

Broadcast style preview/program switching
TRANSFORMER buttons provide 11 options for switching video or applying effects
Three buttons for applying transition effects

CUT
Mix (4 types)
Wipe (30 types)

Auto Scan across all four video inputs
T-Fader and Sync & BPM SYNC button allows for visuals synced to music
Memory button can recall up to 8 presets
Freeze button to pause incoming video
Output fade function make video fade to white or black.
Remote Control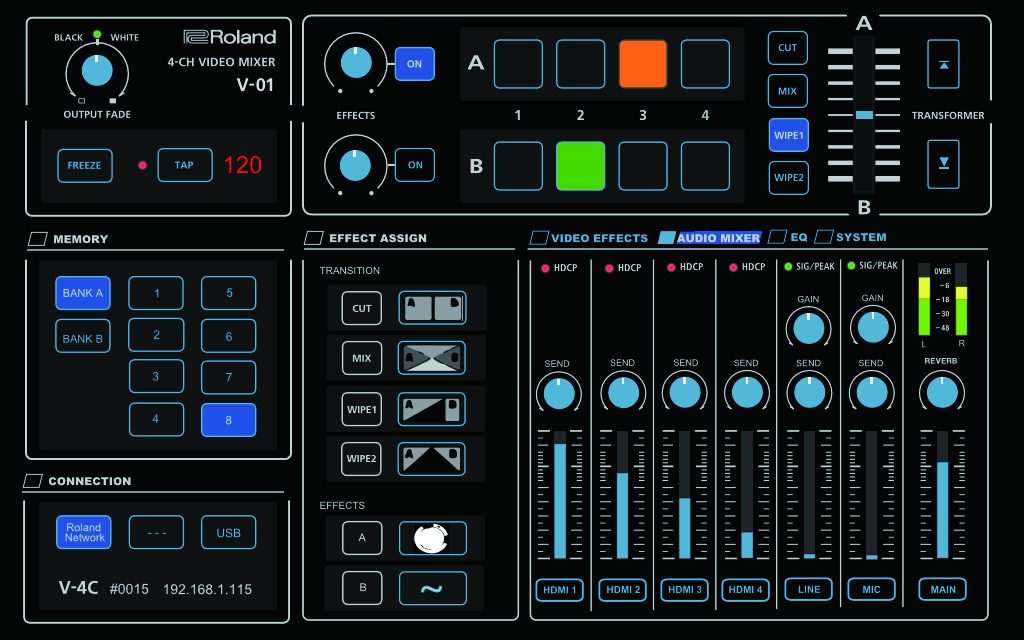 You can also control the V-1HD remotely via the desktop/Ipad application attached via USB cable. Boasting an easy to use interface, it allows you to make detailed setting changes, as well as being able to switch the video and/or audio mix. It also allows you to control the unit from a musical instrument or sequencer via the MIDI input connector.
Effects
The V-1HD also boasts a host of effects:
Picture in picture

Supports chroma key and luminance key
Split horizontally or vertically

Two effects knobs

Many of the visual performance functions made popular by the V-4EX &V-8 are included
Independent A bus & B bus applications using A or B buttons

9 different filter effects including:
[columns]
[column size="1/4″]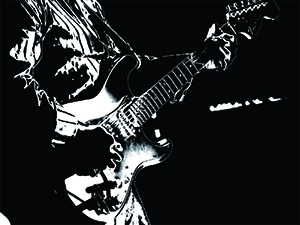 [/column]
[column size="1/4″]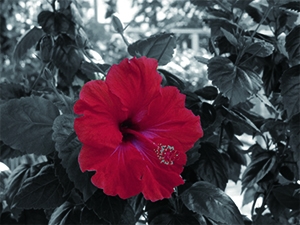 [/column]
[column size="1/4″]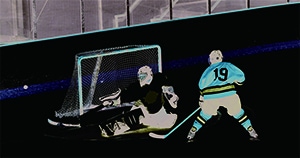 [/column]
[column size="1/4″]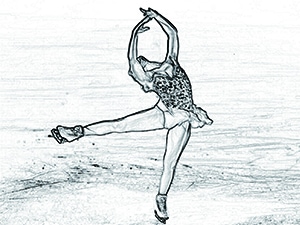 [/column]
[/columns]
The Roland V-1HD video switcher is really going to be a game changer. Thanks to it's size, portability and seemingly endless list of features, it's going to be the must need piece of kit for your video, music & live event needs.
---
The $1299.99 Roland V-1HD is available for preorder now through Vistek and is expected to ship at the end of this year.